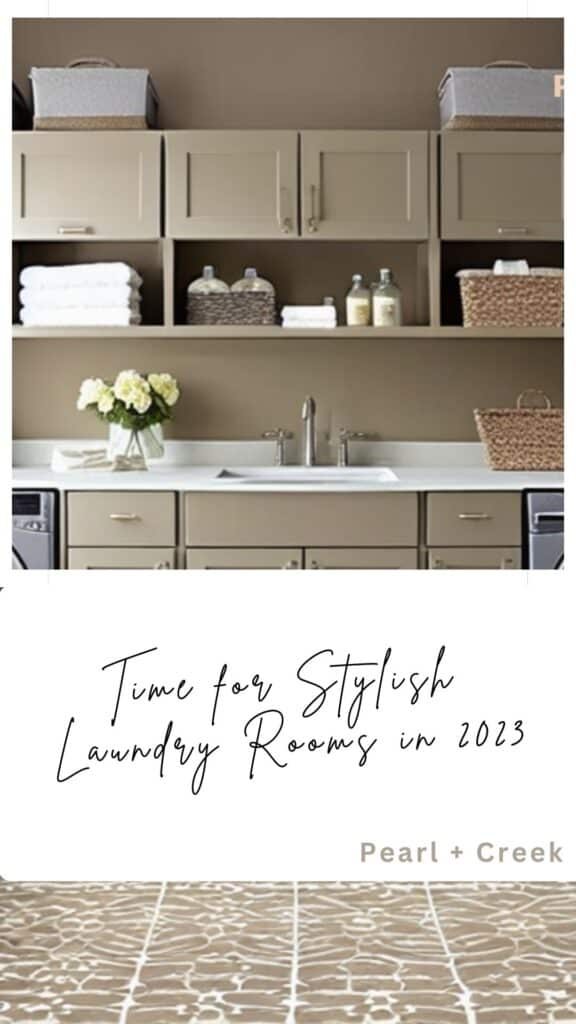 There are many reasons why your laundry should be beautiful to work in, as well as to look at. If your spending any time in a space, then the best way to elevate it is to decorate it. Laundry day becomes so much easier when you simply love being there. Suddenly, laundry doesn't feel like such a chore. Creating a relaxing, cozy place to do laundry elevates the task, making it easier to do.
A well-designed and visually comfortng space can make the task feel less tedious. Instead of being a utilitarian room, an improved laundry area can keep you motivated to keep the laundry space organized and tidy, and even enjoy laundry day.
Second, a well thought out laundry adds value to your home. If you are planning to sell your home in the future, this can be a strong selling point for potential buyers. A laundry that is both functional and visually appealing can make your home stand out in a crowded real estate market.
Make your own chic laundry room with these design ideas.
The laundry is one of the most utilized spaces in any home. That said, it's important to choose a functional and efficient design that makes doing laundry a breeze. In this article, we'll take a look at some of the best ways to design your laundry. Ready for a laundry makeover?
These design tricks should make your laundry room work like a well oiled machine.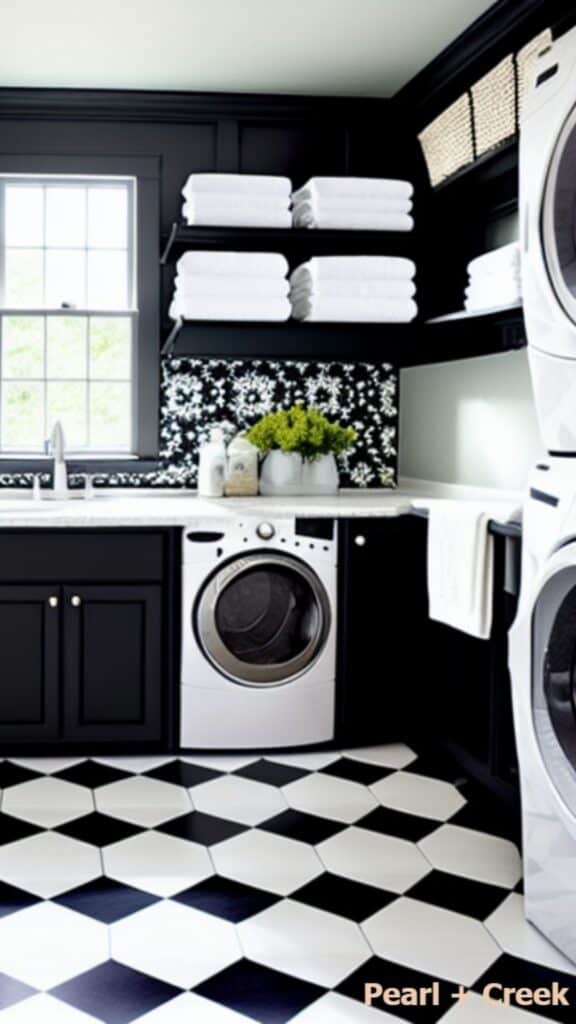 Decorating Ideas for Detergent
Detergent boxes, bottles, stain removers, hangers and steam irons are not exactly decor friendly. The decor trend is to keep all of these out of sight. Keep your eyes open for good storage hacks, cabinets or shelves that hide dirtly laundry, detergent or cleaning brushes out of sight, unless you have found a clever way of making them part of your decor.
Laundry Room Design Ideas
A strong trend is to use the same decor style as the rest of the house; focusing on the kitchen or mudroom. That way the space flows and design elements are uniform.
Right now farmhouse, shabby chic laundry room, compact laundry, white laundry room, country laundry room are all trending. They look good and are functional designs. Which ever you choose, your laundry room scheme should keep the space well organized, with laundry machines clean and maintained regulalry to keep your laundry beautiful and functional.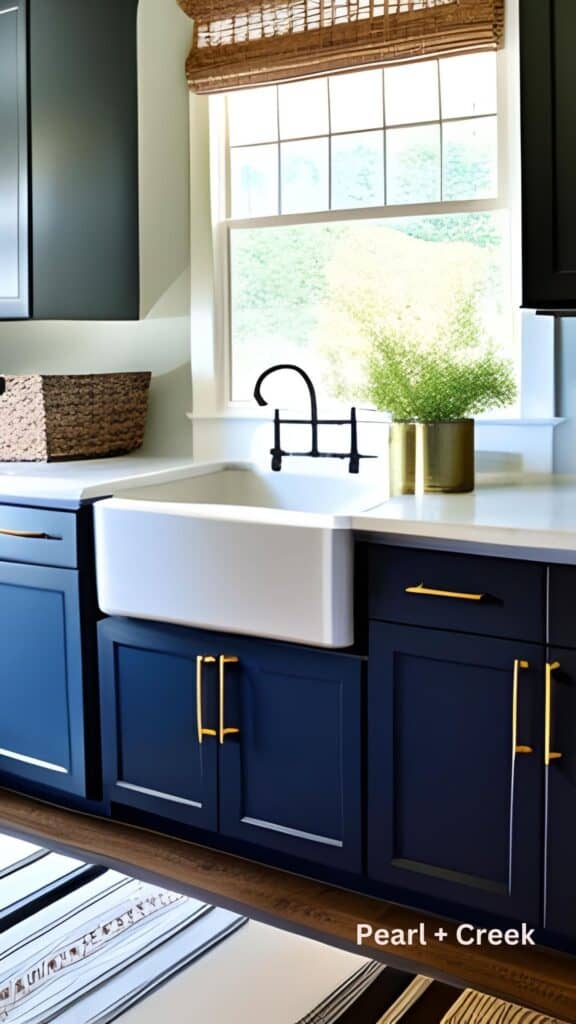 A popular laundry decor trend is the use of bold colors or patterns on the walls or flooring. This adds visual interest to the space and makes it feel more inviting. Another trend is to use decorative tiles or backsplashes to create a focal point in the room. From stenciling floors, walls, using bold cabinet colors or adding a row of storage baskets, the decor options are endless and will largely depend on the amount of available space and its location.
Keeping the sink, linen baskets and machines close together, in a line or triangle, makes loading and unloading faster and easier.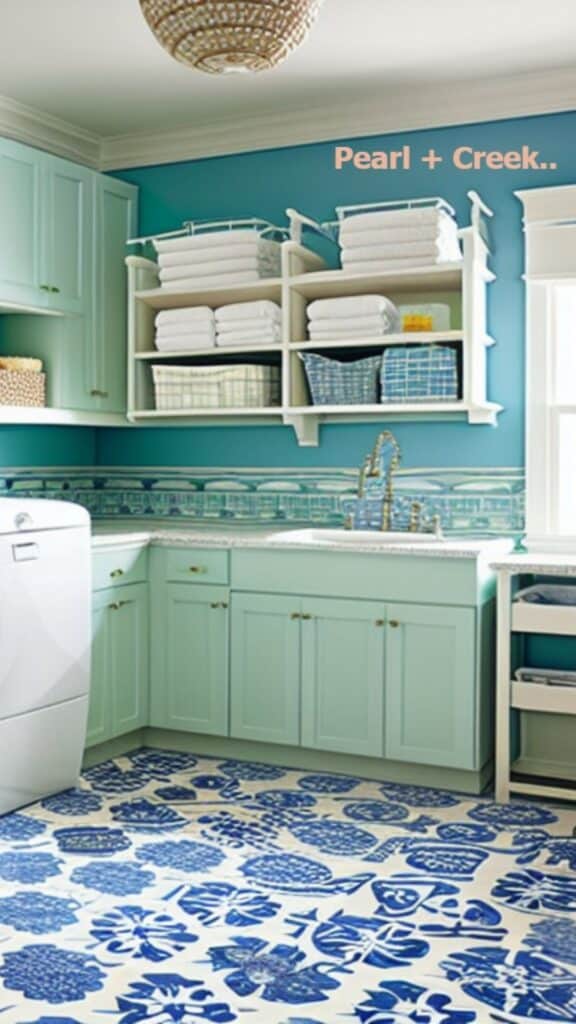 Need Laundry Room Location
The location of your laundry can be a crucial factor to the flow of your home and in designing the perfect laundry. Ideally, you'll want to place it near bedrooms or the main living spaces in your home for easy access. This way you won't have to haul dirty clothes and linens from where they're being used.
Your laundry might be a dedicated room, a room off the kitchen, in your kitchen, a bathroom and laundry combination, a closet laundry in a hallway or in your mudroom. Easy access and traffic flow are your main considerations, even if you have a small laundry room.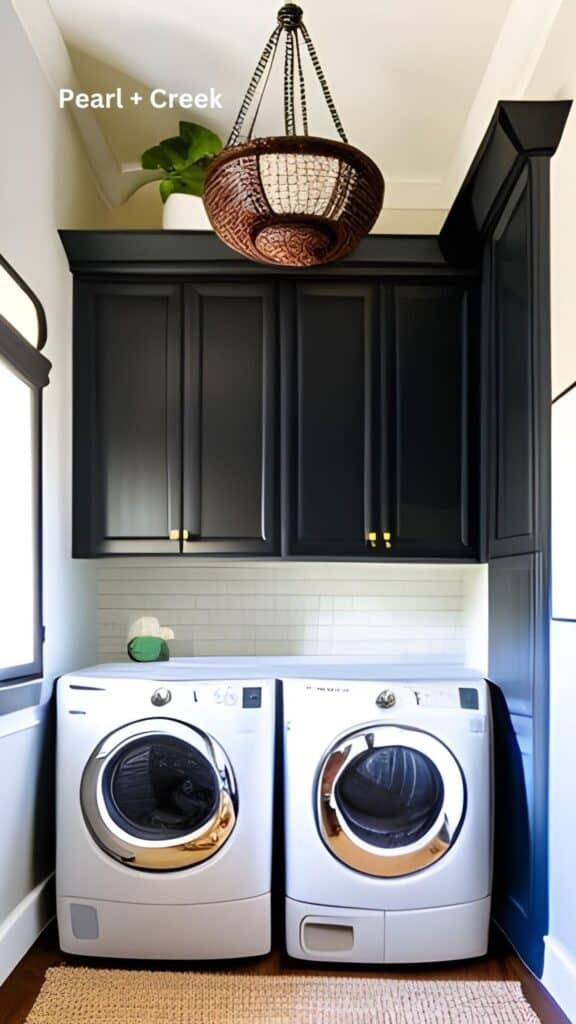 Laundry Appliances
So where does everything go? Washing machine and dryer placement is an important aspect of your laundry design. You'll want to make sure they're close to each other and that there's enough space around them to move comfortably. A utility sink is also a useful addition to a laundry, especially if you need to pre-treat stains or wash delicate items.
When it comes to height, it's important to consider the height of your appliances and the countertop. You want to make sure that the appliances are at a comfortable height for loading and unloading. The countertop should also be at a comfortable height for folding clothes. A standard countertop height is around 36 inches, but you may need to adjust this depending on your height and the height of your appliances.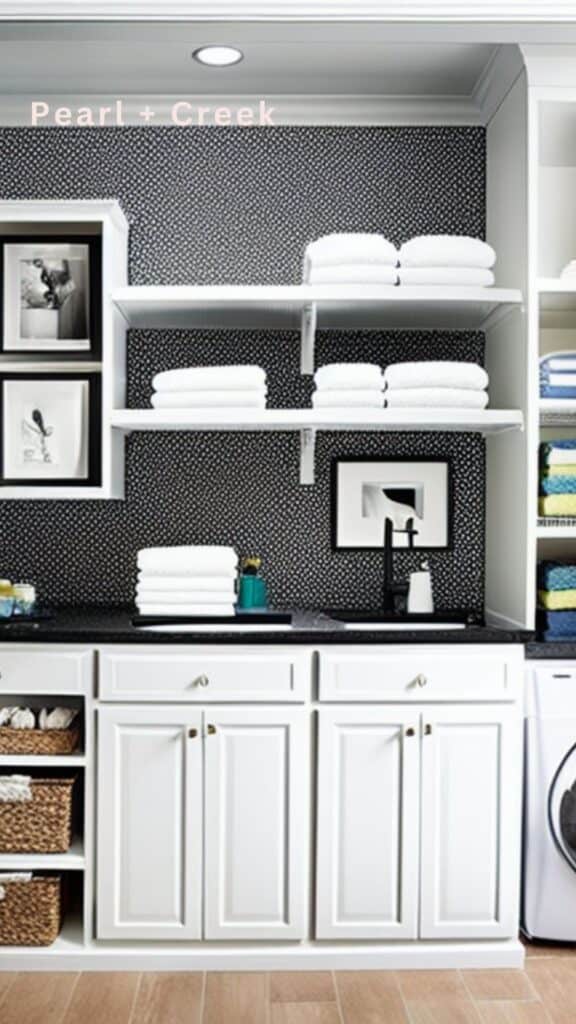 Laundry Tile and Flooring
When it comes to laundry flooring, there are a few options to consider. The first is your health and allergies. Any new flooring options can have health implications. If you are sensitive to glues, varnishes or any chemical derivatives, make sure you select tiles or flooring that suits you and your family. This goes for area rugs too.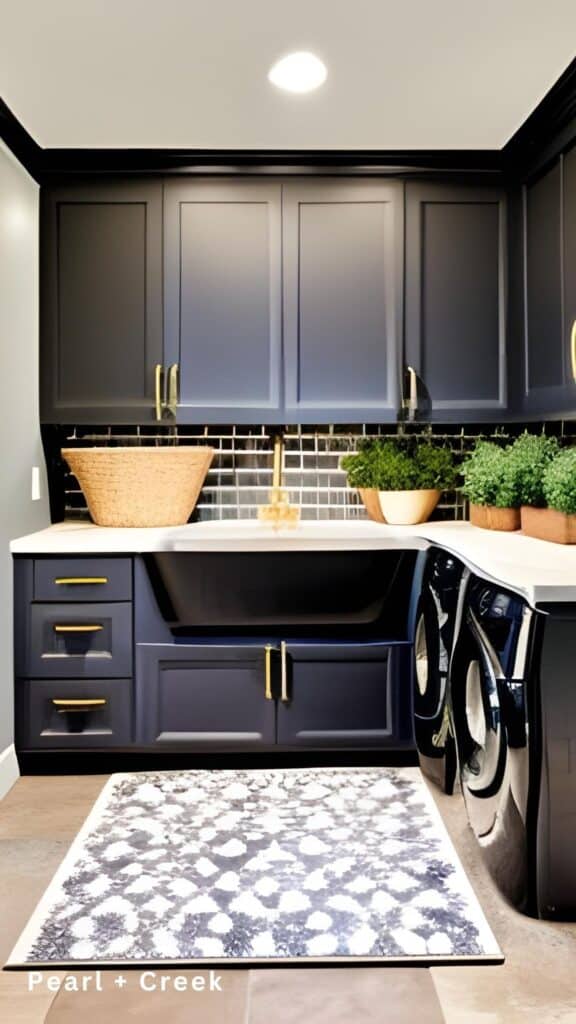 Vinyl Flooring: Vinyl is a popular option as it is affordable, durable, and water-resistant. It is also easy to clean and maintain.
Ceramic or Porcelain Tile: These tiles are also a good choice as they are water-resistant and durable. They come in a variety of colors and designs, making it easy to find a style that matches your décor.
Concrete Flooring: Concrete is a sturdy and durable option for flooring. It is also easy to maintain and can be stamped, stenciled or stained to create a unique look.
Laminate Flooring: Laminate flooring can give the look of hardwood or tile flooring at a more affordable price point. It is water-resistant and easy to clean.
Rubber Flooring: Rubber flooring can be a good choice. It is slip-resistant, water-resistant, and comfortable underfoot. It is also easy to clean and maintain.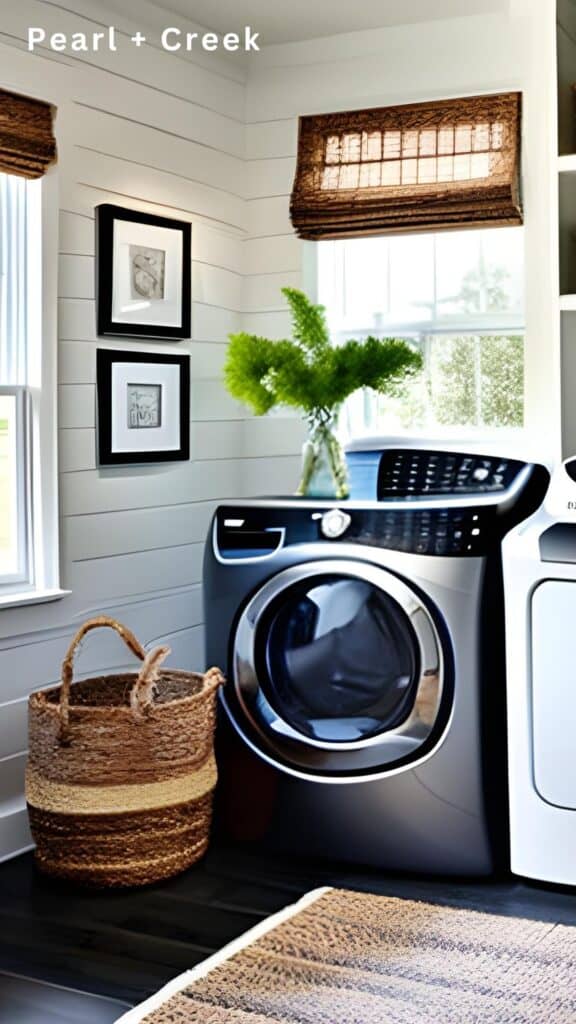 Ultimately, the best flooring option will depend on your specific needs and preferences. Consider factors such as moisture level, durability, stain prevention and ease of maintenance when making your decision.
Highly patterned flooring is on trend. Less expensive options include painting concrete, stenciling or even stick on tiles. More expensive options include hardwood floors or hybrid floors made of bamboo and wood.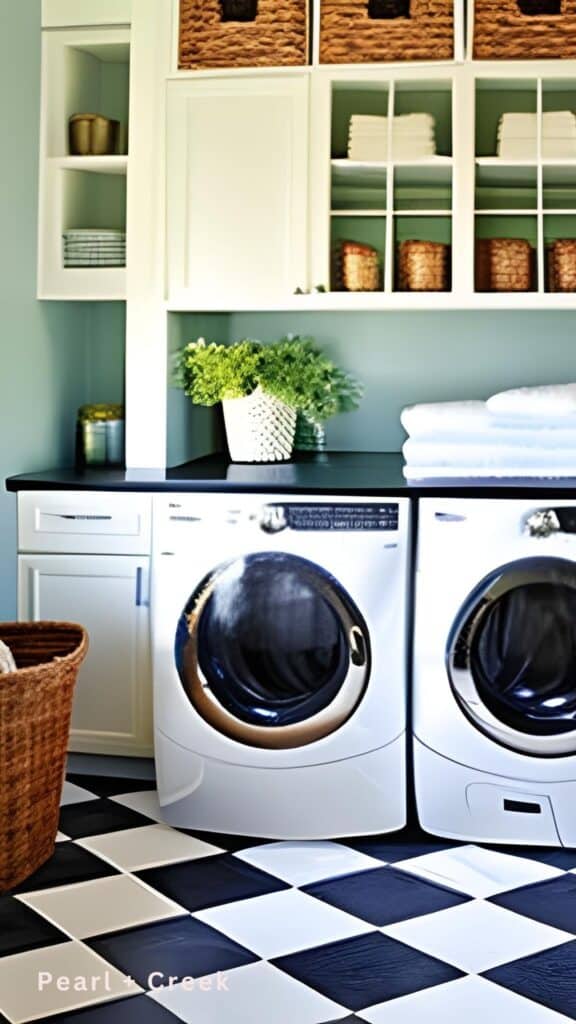 Area rugs are finding their way into the laundry. Indoor/outdoor rug fabrics and styles are perfect for wet areas like the laundry.
Laundry Room Decor
Once you have your design scheme that is in keeping with the rest of your house, color palette selection, textures and lighting are easier to choose.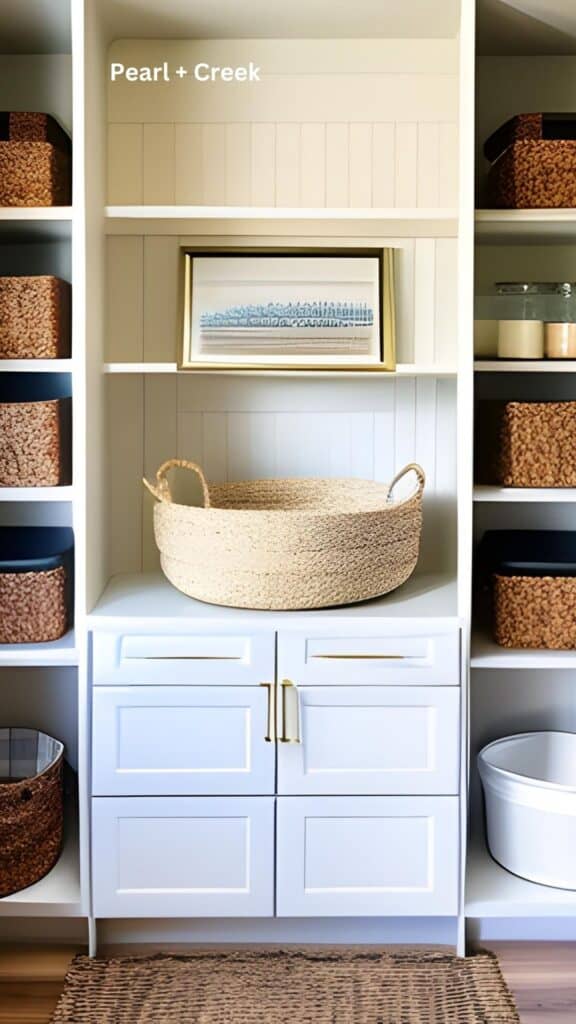 If you live in a space without a dedicated laundry, you can create a laundry corner with a laundry cart to keep unsightly laundry organized. Like a bar cart without the booze. This will keep cleaning supplies and detergent out of view, but together in uniform storage tins or containers.
Best Laundry Room Storage Solutions
Laundry room storage and organization is key of any functional laundry. It's important to have enough room to store laundry essentials like laundry detergent, fabric softeners, stain removers, and other cleaning supplies. Consider adding cabinets or shelving to keep supplies organized and out of sight. You can also use decorative baskets or bins to store items like dryer sheets or stain removers.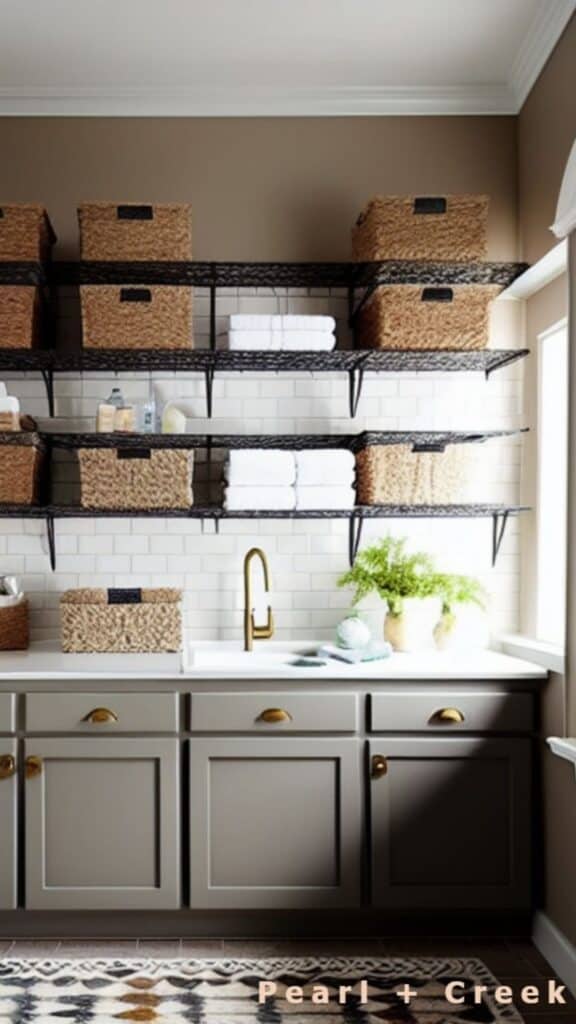 Both open and closed storage ideas are trending and vertical storage uses under-utilized wall space; keeping your laundry organized.
If you have a small space, consider installing wall-mounted shelving or cabinets for extra storage. Built-in storage, such as cabinets or cubbies and open shelving can also help keep your room organized and clutter-free. Adding stylish laundry baskets or decorative bins near your washer and dryer are good for easy access and organization .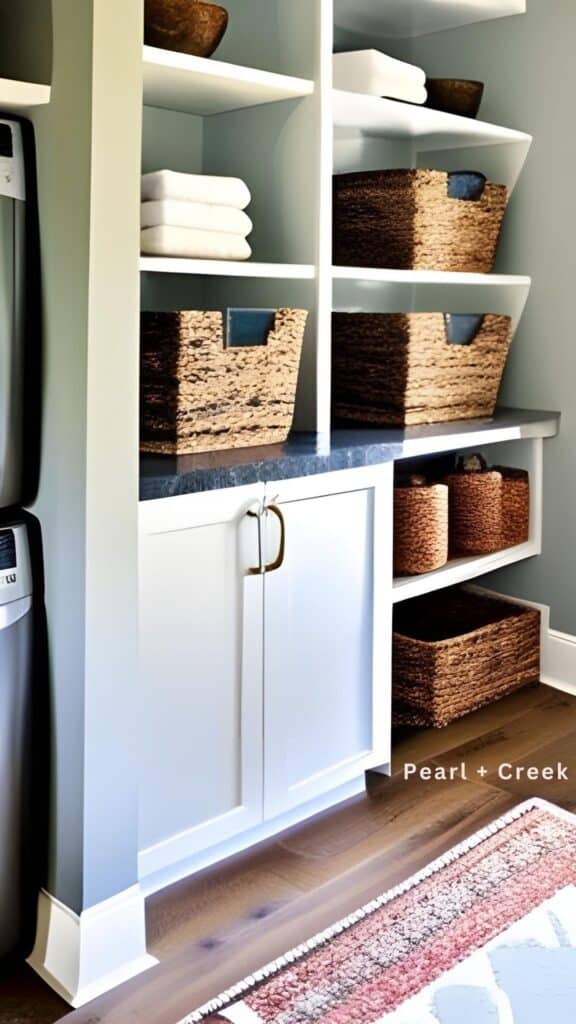 Cabinets and Baskets Give the Room Style
Two items that are often combined to create a functional and organized room are cabinets and baskets. Cabinets are usually installed above or beside the washer and dryer and provide easy access to storage space for detergent, fabric softener, and other laundry essentials.
The most popular designs in 2023 are:
Sleek and Modern: Simple, streamlined designs with clean lines and minimal detailing.
Multi-functional: cabinets that offer versatile storage solutions and space-saving features like pull-out drying racks, ironing boards, or fold-out hampers.
Neutral Tones: Soft, muted colors like white, beige, or gray are trending; providing a calming and refreshing atmosphere.
Eco-Friendly: made of sustainable materials like bamboo, or with low-VOC finishes or eco-friendly coatings, are gaining popularity.
Minimalistic: minimal, flush handles or push-touch opening mechanisms are also becoming a popular choice.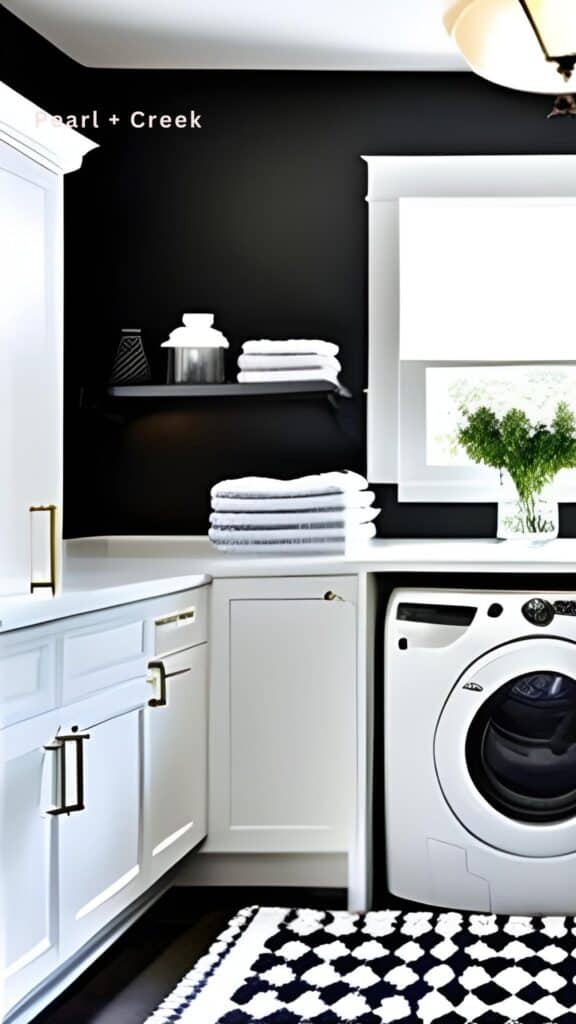 Baskets can be used alone for sorting and carrying dirty clothes and depending on their size, they can fit into open cabinet shelving. The trend is wicker, rattan or wire.
Stylish Wall Paint Colors and Wallpaper
The color of your laundry can have a big impact on the overall look and feel of the space. Bright, vibrant colors can make the room feel lively and energetic, while soft pastels can create a more calming atmosphere. Neutral colors, such as white or gray, can make the room feel larger and more open.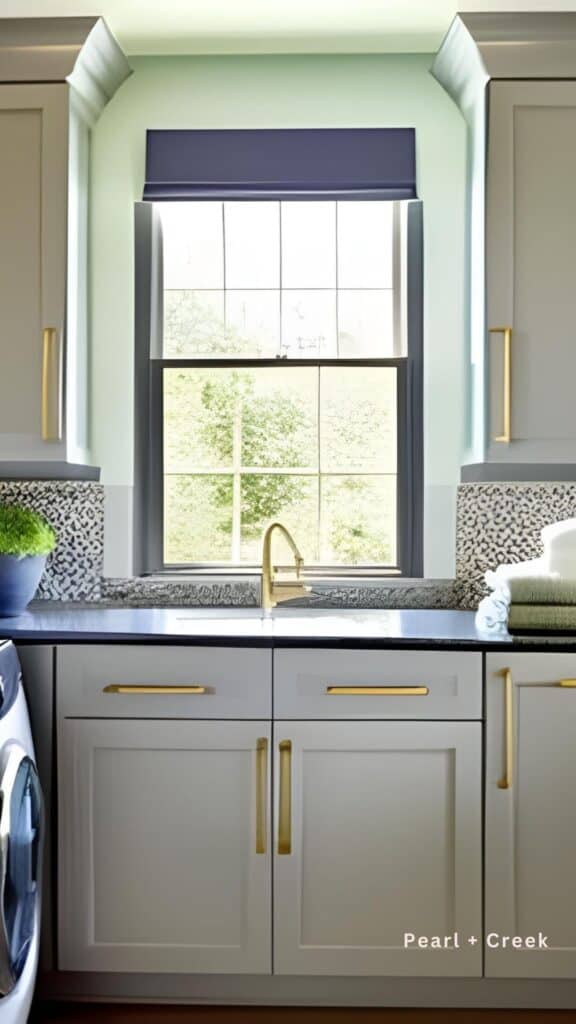 Right now some of the latest laundry wall paint and wall paper colors are mint green or seafoam, light gray, light blue, taupe, brown, beige, and classic black and white. These colors create a calming and fresh atmosphere. It is always recommended to choose a light color for the laundry as it creates a feeling of spaciousness and cleanliness. They also reflect more natural light. This is important if you are working in a windowless room.
Wall paper has made its way into the laundry for lots of pattern, interest and color. Patterned and floral wallpaper are great for covering uneven or imperfect walls.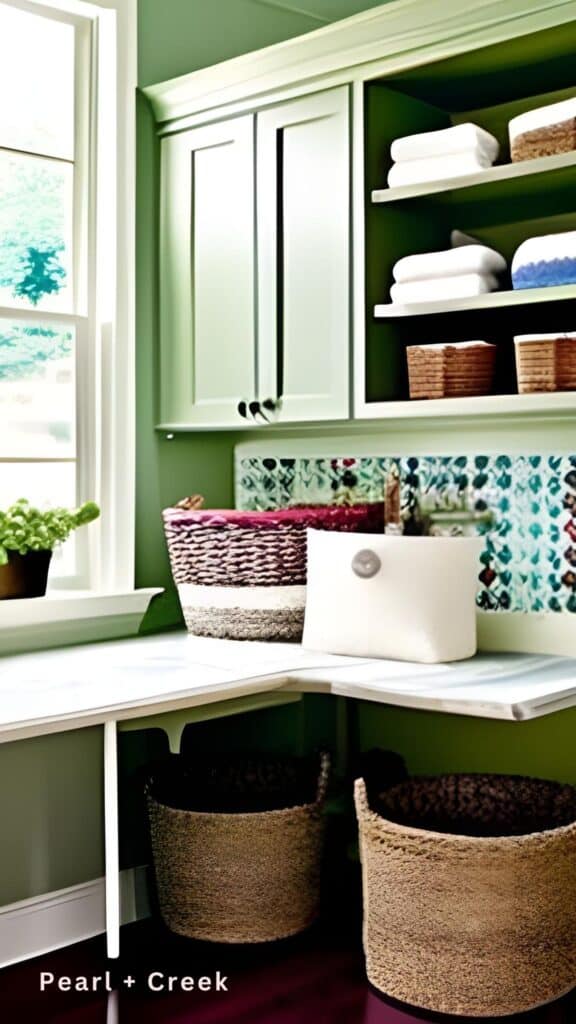 Decorating ideas include laundry signs, indoor plants and wall decor.
Quick DIY: Install Patterned Wall paper
Measure the height and width of the wall you want to wallpaper.
Prepare the wall: Clean the wall to remove any dust or debris. If the wall has any bumps, fill them and allow to dry completely before continuing.
Determine the pattern: If the wallpaper has a repeating pattern, lay out a strip of wallpaper flat on the floor and mark where the pattern repeats. Use this as a guide when cutting your strips.
Cut the wall paper: Measure and cut to the appropriate length, leaving a little extra at the top and bottom to trim later.
Apply adhesive: Follow the manufacturer's instructions to apply adhesive or paste. Some wall paper comes pre-pasted, which just needs to be wet with water.
Hang the wall paper: Starting in the corner of the wall, line up the first strip of wall paper with the plumb line. Smooth out any bubbles with a wall paper brush or scraper. Continue to hang the strips of wall paper, making sure to match the pattern as you go.
Trim the excess: Once fully applied, use a sharp knife or scissors to trim the excess at the top and bottom of the wall.
Let it dry completely before adding any furniture or decor.
There are alot of different peel and stick wall papers that can be applied and removed easily if you are worried about making a design mistake. Incorporate some interior design ideas to make your laundry stylish, well organised and a room you will enjoy spending time in.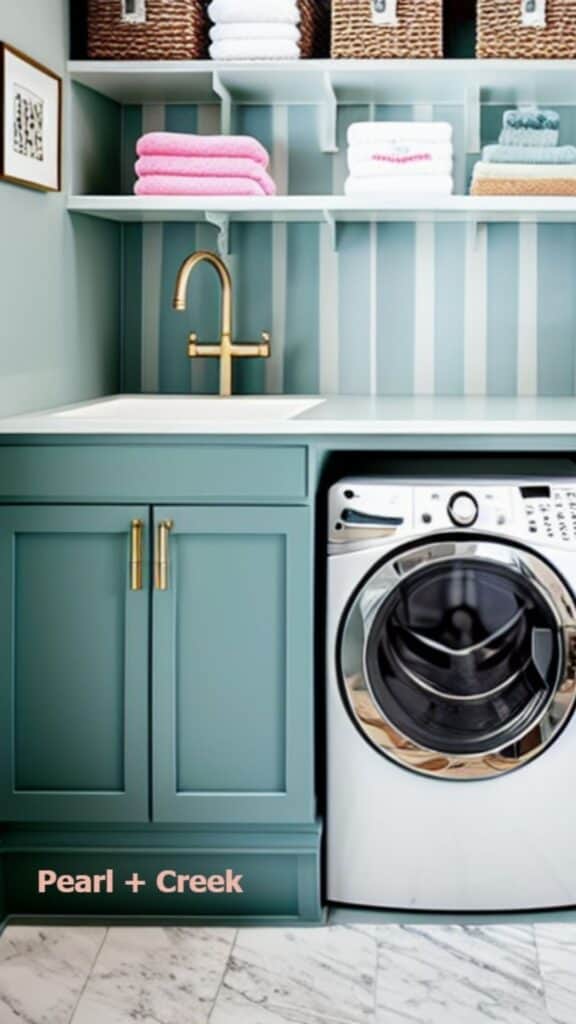 Drying Rack and Air Drying Laundry Room Idea
Air drying clothes is an excellent way to save money on energy bills while extending the life of your clothes. A retractable clothesline or drying rack can be mounted to a wall or ceiling to keep your clothes off the floor and out of the way. If you have a larger space, consider installing a ceiling-mounted drying-rack that can be lowered and raised as needed.
Small Laundry Room Design Ventilation
Proper ventilation is essential in a laundry to prevent mold and mildew growth. A ventilation fan or window can help to circulate air and remove excess moisture. Make sure your dryer is properly vented to the outside of your home to avoid a potential fire hazard.
Small Space Folding Laundry Station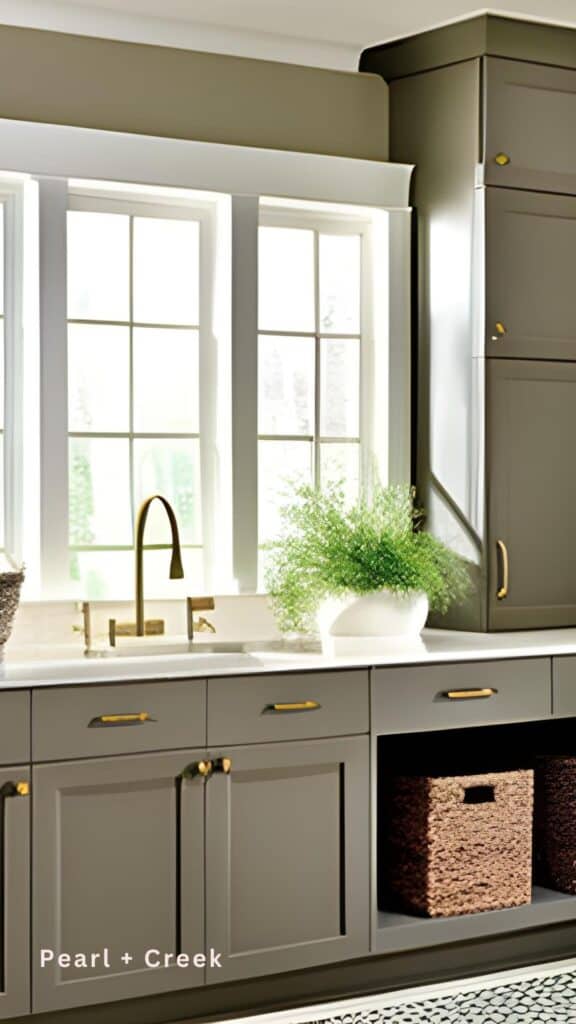 A folding station is a great addition to any laundry, and can make the process of folding and organizing clothes quick and easy. The best location is near the washer and dryer. If that's not possible, use a spare wall or corner of the room.
There are many different types of tables or shelves that can be used as a station. Measure the space so you have enough space for a table or shelf. Some popular options include a wall-mounted drop leaf table or a freestanding shelf. Follow the manufacturer's instructions to install the table or shelf securely to the wall or support brackets. To keep the area clutter-free, add storage baskets or shelves to store laundry supplies, hangers, and clothes.
Stylish Laundry Area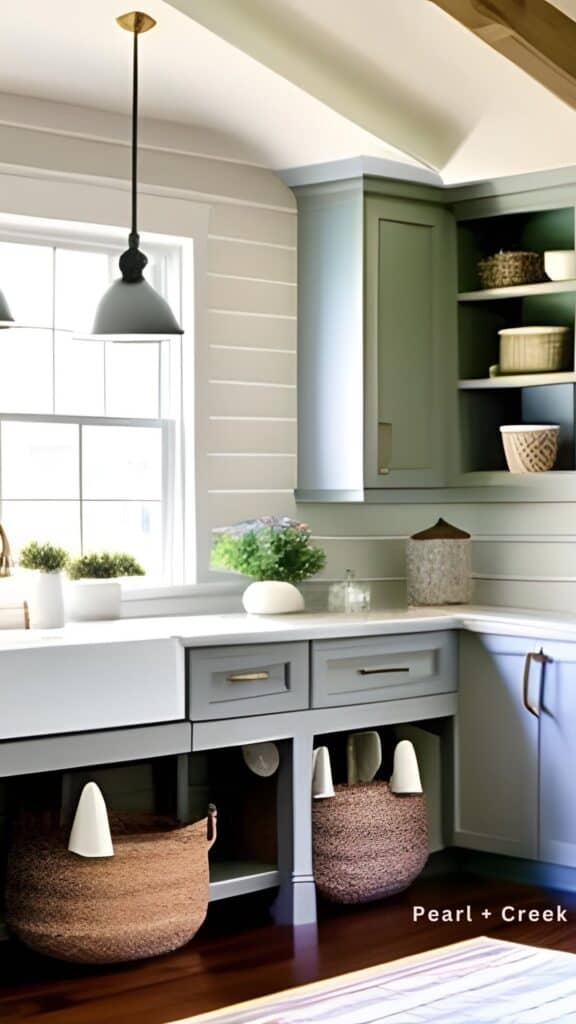 Finally, decorate! Incorporate design elements that match the overall style of the laundry, such as matching colors, textures or patterns. Your station should make laundry day easier, and your laundry a more functional and organized space.
These are just a few design features that can help make your laundry work better. With a little creativity and planning, you can create a functional and efficient space that makes doing laundry a breeze.
Overall, creating a beautiful laundry can make the task of doing laundry more enjoyable and add value to your home. With careful planning and attention to detail, you can design a laundry that is both functional and visually appealing.
We are creating some new eco-friendly, sustainable products. Join our email list to find out more.