10 simple home decor ideas to make your home look and feel more luxuriously high-end. Sounds like a dream but you can transform your home into something that feels luxurious, sophisticated and sleek without spending a ton of money. Plan ahead and you can do it in as little as 3 days.
Think of it as a visual puzzle.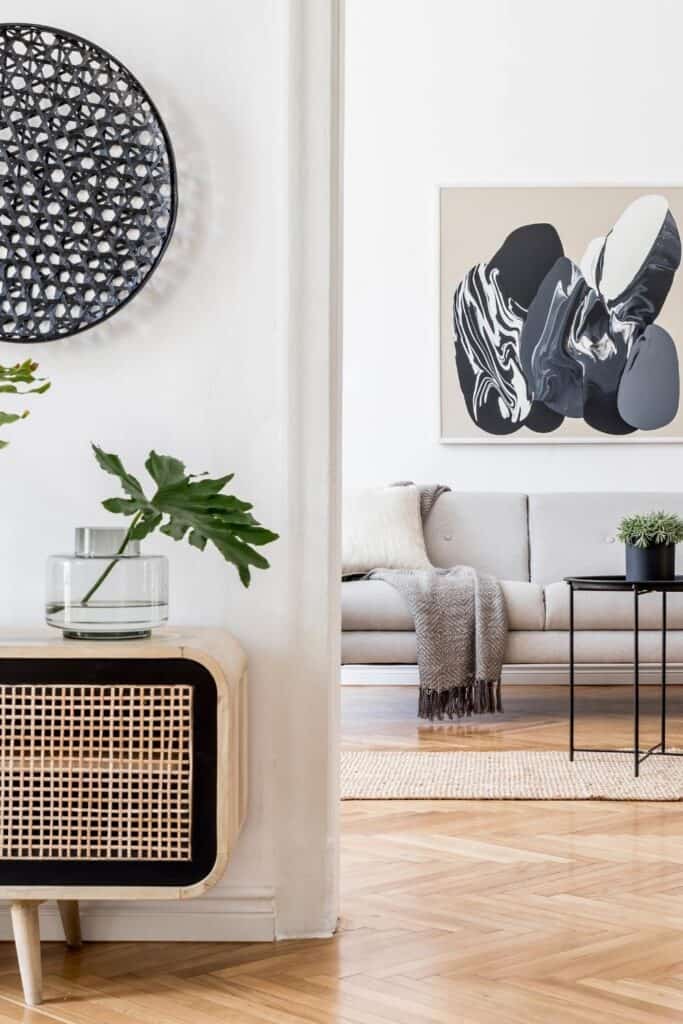 Often the secret to a magazine worthy look is layering details; not using large expensive pieces which often stand out and look strangely uncomfortable. Layering details like textures, tones, space, drama and curiosity create visual spaces that look original, magical and out of your budget.
1. Home Decor Ideas – Mixing Materials
Mix your materials. Go for at least three different materials in one room such as linen, wood and leather. If you stick to only two elements like a wooden table and linen furniture the result is a little flat and two dimensional. The problem is there's not enough contrast. To dial in and get a more elevated look, mix colors, textures and fabrics. The bigger the contrast the bigger the pop. This will transform the look and vibe of your room into an intentional space.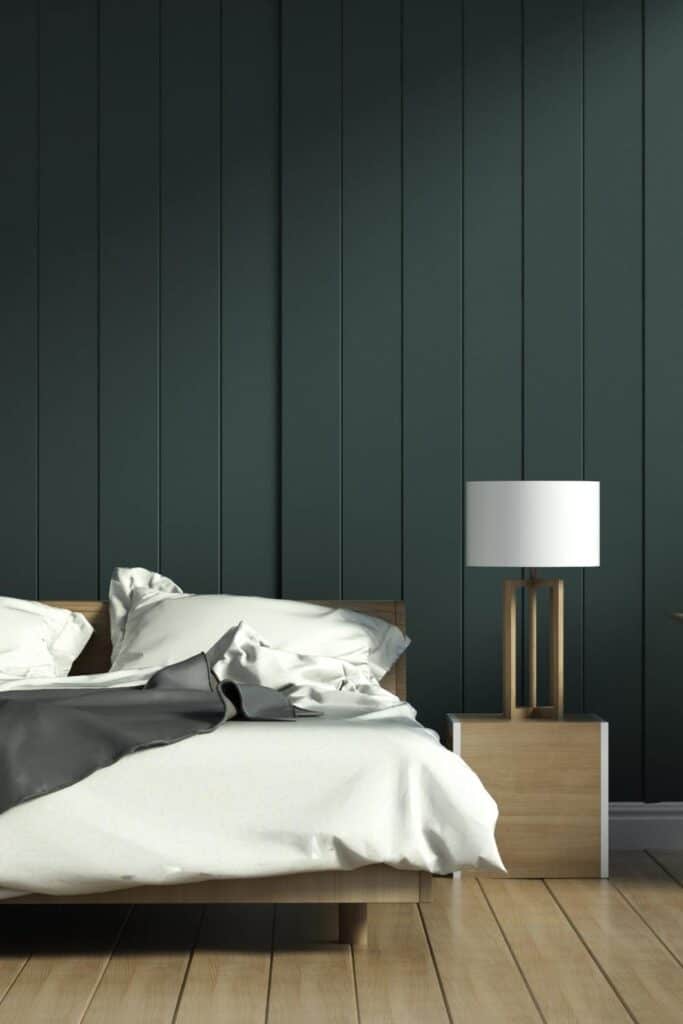 Think luxurious boucle with linen or velvet against warm or cool woods and smooth leather finishes. Think copper, clay or warm woods. Play with it to create your own unique look and get creative. Materials can even extend to indoor plants. Their rich texture and color can add the extra dimension that your room needs.
2. Home Decor Ideas – The Secret – Be Intentional with What You Display
Like any good drama, rooms become a theatrical stage that you dress with pieces you choose carefully to display and the rest you keep hidden away.
What is left out on display should have both purpose and style to lift the space to lofty designer heights. From a single textured vase to crisp textured bright or embroidered fabrics or wall decor, you can inject the space with curiosity and interest by selecting small but striking touches.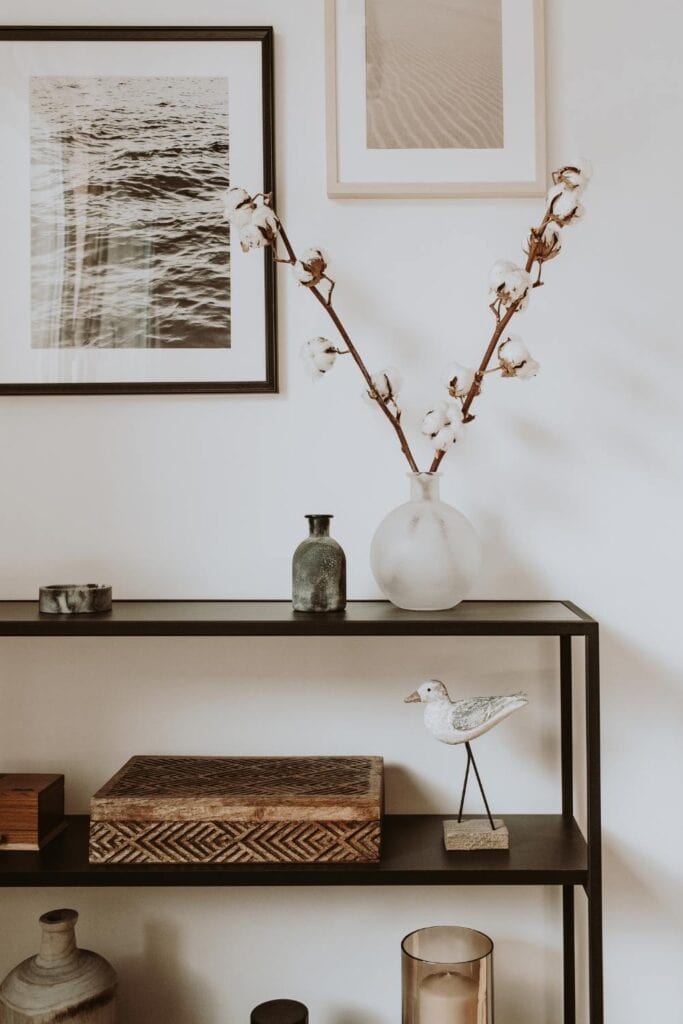 Take fresh thick crisp linen tea towels and add them to new kitchen copper, black, gold or silver appliances in your kitchen or pose a highly textured vase on a sleek table; all functional, decorative and stylish and won't get lost behind or alongside other things.
Think of each collection as a photo vignette or still life; this makes it easier to group and position them together. And like any great still life there must be interest, balance and a theme. How many drama points should you have? This is personal. But ask yourself; Are you a minimalist or a maximalist?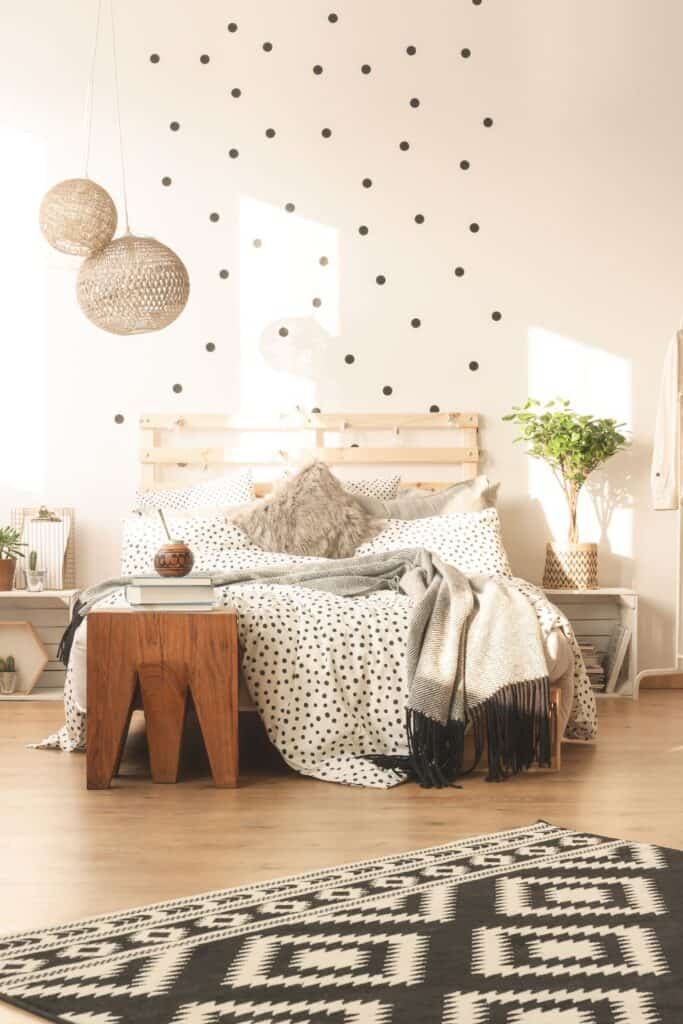 Every surface is an opportunity to create some drama but too much is frankly, too much, and you can tip the visual scale back to 'it looks cluttered'. Like all good recipes you need to play with it.
3. Collectible or Collectable?
Nothing says 'tired' louder than a large group of outdated and faded things. Think sharp contrasts; think high voltage. Its about uplifting and refining whats good, removing the least interesting pieces and adding something super sleek to the collection to freshen, modernize it and give it an upgrade.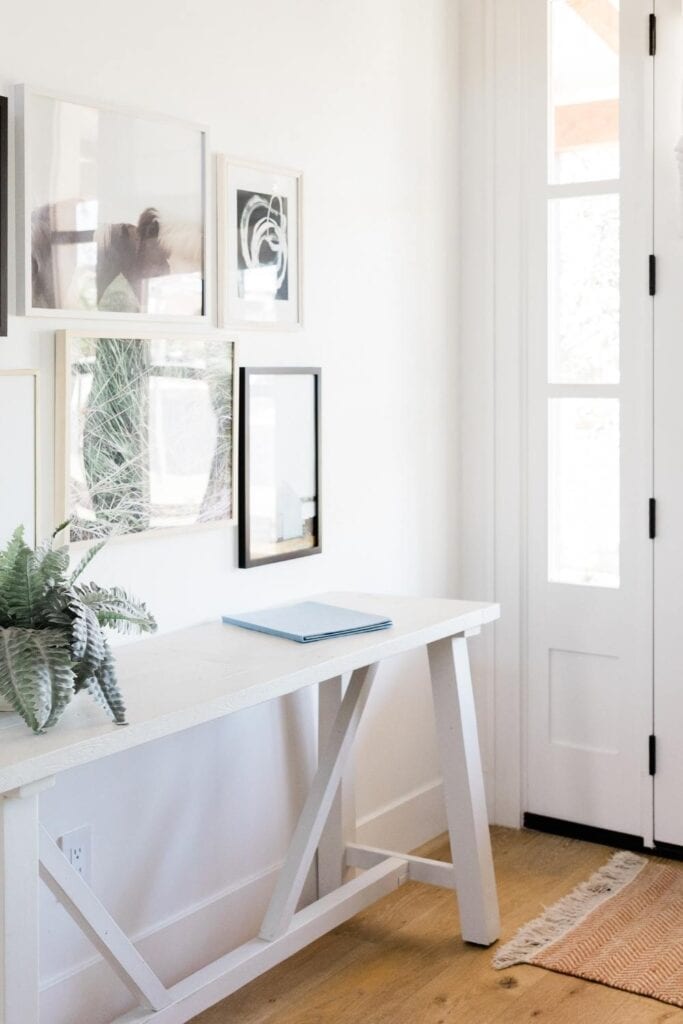 By being intentional you can swap out some old for new and keep the worn but wonderful things in pride of place. You can add something updated and fresh or add something that fits, even though its from a different style.
And that's how you can mix vintage with modern and still stay chic and on trend. Does it mean you have to get rid of 'collections' you love? No, but think about how you can display them without having too many on show at once, which often hides the really special pieces in all the visual noise.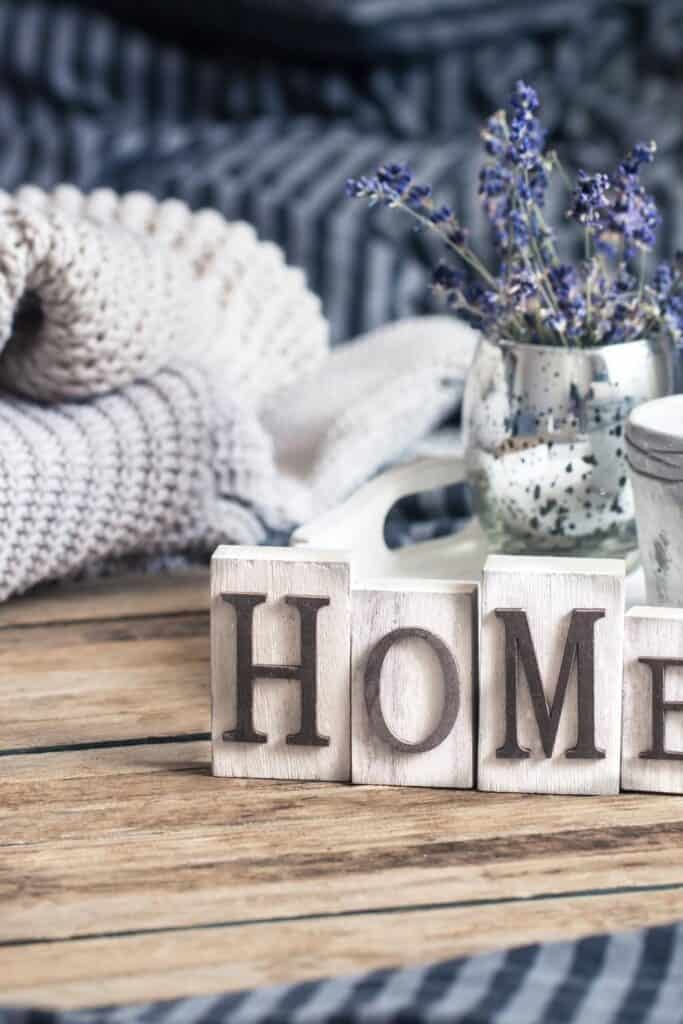 4. Home Decor Hack – Doors Ressurected with Drama
Face paint your internal doors. Its a fast, affordable and refined home decor hack that can uplift your space. It adds color and drama and creates a striking design look for a small spend.
Begin by using one color on the internal doors. Black, navy and light sage paint colors are all on trend. The high impact of this one pop of color is transformative especially if the contrasting walls are neutral or muted tones.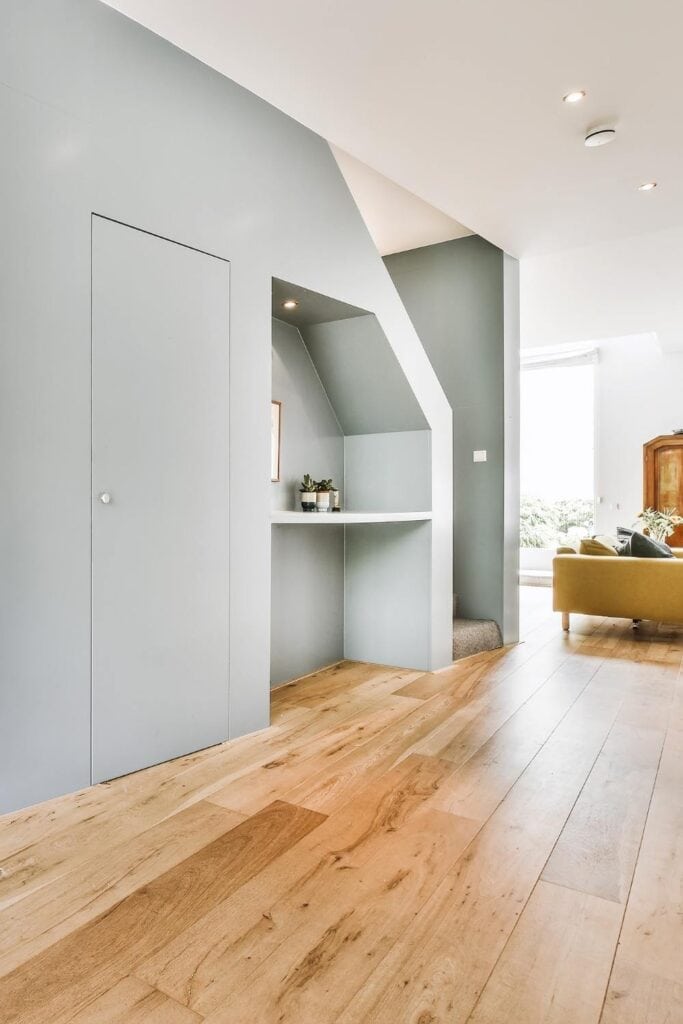 This visual trick adds drama at the end of a hallway or used on a series of doors down a hall. Visually its dramatic, playful and refreshing and its simple to create – paint and time is all you need to create this high end look.
5. Home Decor Style Themes Update
If you love a particular look, take care, because the latest designers stay away from highly disciplined block themes like coastal themes or bedroom themes. They can look over done; a little too stitched up. But all is not lost if you scale the look back and add pops of curiosity and playfulness with something personalized or exotic.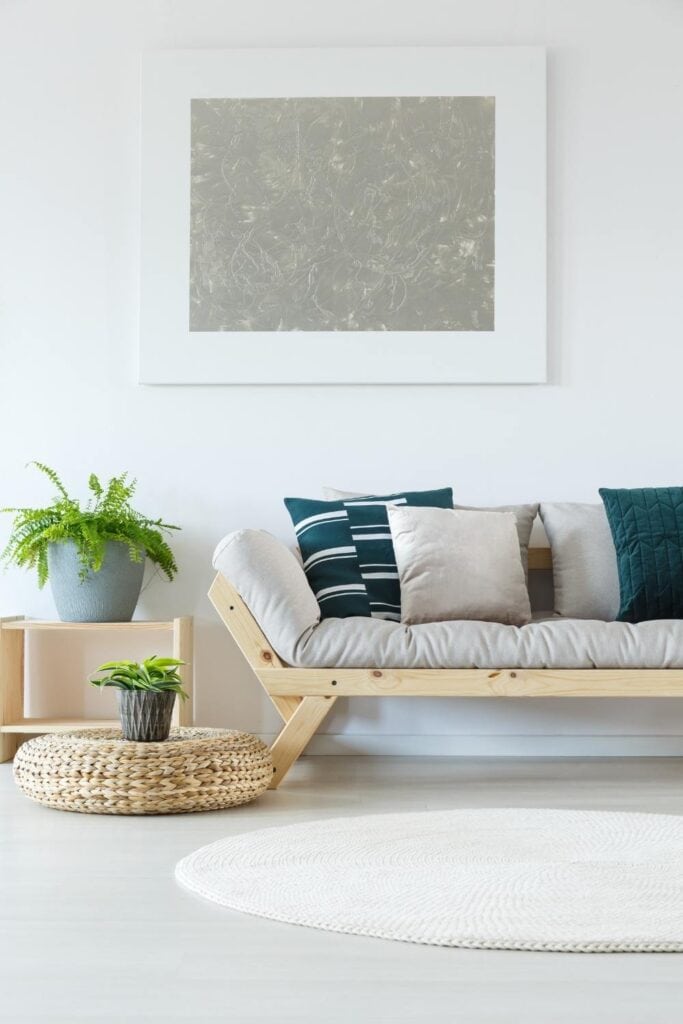 Instead of your using ALL your themed pillow covers, themed wall signs or coasters, remove a few and now layer in some unexpected colors or textures that enhance your theme in a fresh new way; maybe its more toned down or maybe you add a shot of color, or a mid century vibe; just because you love it. Give your self the freedom and permission to love both.
And that's what will make it look innovative and fresh.
How you connect the two styles is up to you; maybe its the same pop of color, texture or fabric in smaller doses around other parts of the room. Create a style that is imaginative, fresh and creates a magnificent look that is all yours and greatly outshines the usual over-used theme template.
6. High End Lighting Look in Minutes
Something every high-end designer homes have in common is wall sconces. They instantly transform a room with a custom high-end look, even if you don't use super expensive light fixtures. Many of the latest designs use more natural wood tones, bamboo and rattan to add warmth and a wall decor finish at the same time.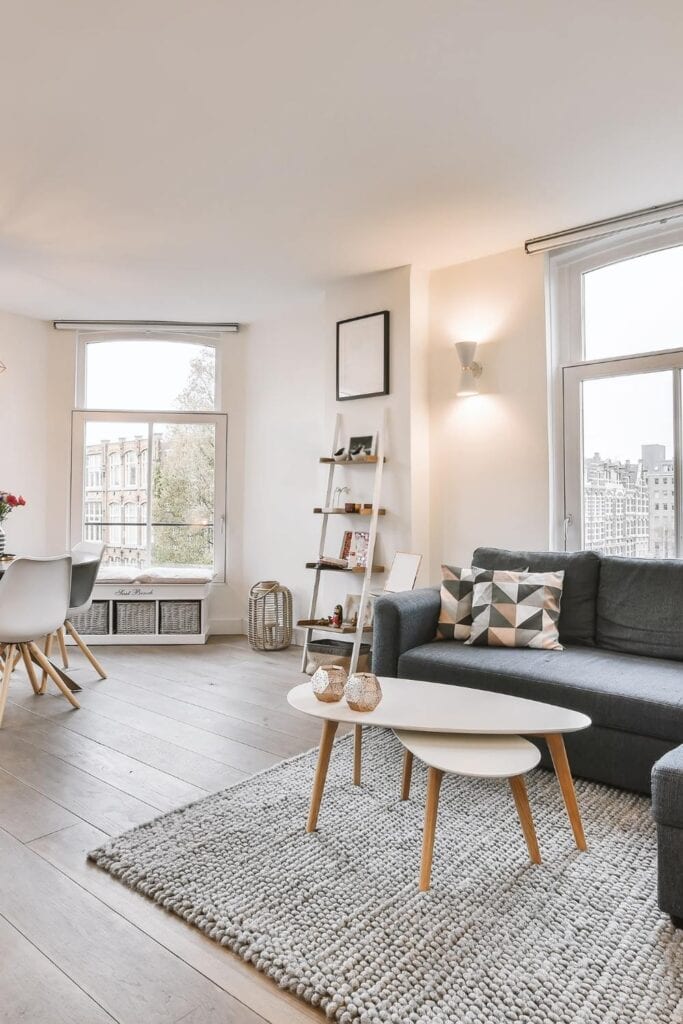 Wall sconces give you instant mood lighting; soft light and beautiful shadows. They are quite grown up and yet still highly functional. Their radiant light highlights both wall decor or furniture in a soft and comforting way. Perfect for a living room or bedroom, wall sconces are perfect in your bathroom as task lighting .
Today there are wall sconce lights that don't need hardwiring; yes, simple plug-ins. So you can get the high-end look without an electrician or tearing into your walls; yes, even if you are renting.
7. Home Decor Lighting Idea
Dimmable lights are a must. They make your space feel luxurious and high end, and create an instant custom feel by removing stark harsh lights. From the kitchen to the bedroom, dimmable lights are a no budget home decor idea that is easy to use all over the house.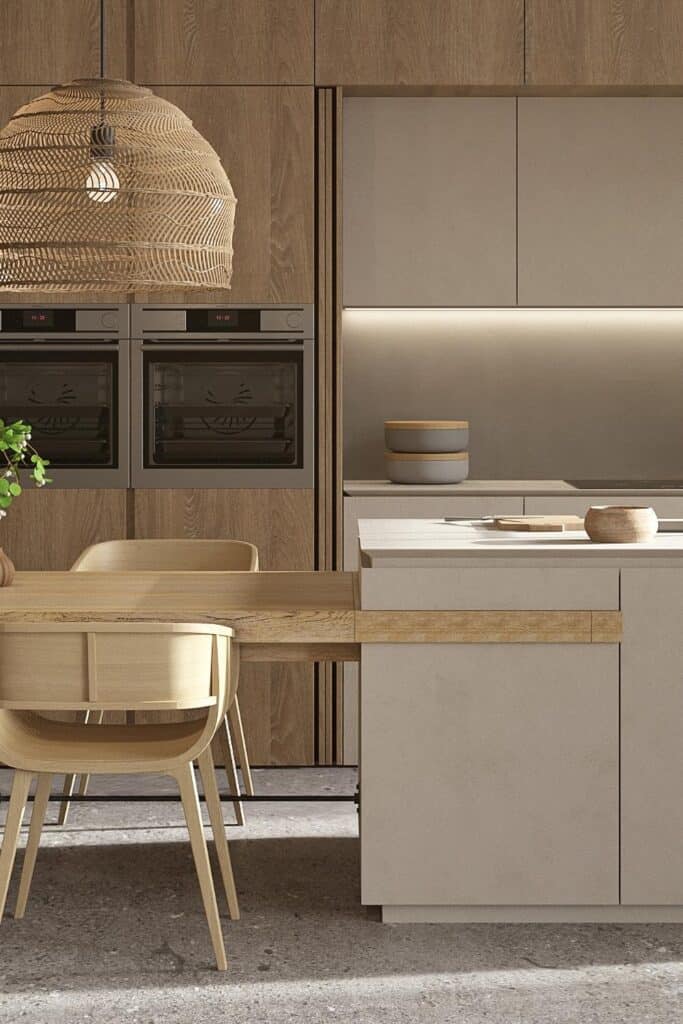 Today there are solutions from dimmable wall plugs to dimmable lamps that provide an fast and convenient solution for just a few dollars.
Dimmable wall plugs allow you to change any bulb you already have (bonus) into a dimmable feature. That means you can dim your lamps and create a super gorgeous luxurious look. There are other solutions too, and a little research will find the latest and best dimmable solution for you. Do this, you won't regret it.
8. Layered Looks with Rug Coupling
Layering rugs is a great little designer detail that you should absolutely 'do' in your home. It has a high-end design feel, and the texured and multi-toned effect that make rooms feel larger. And its so easy. Make one large rug your base and then layer a smaller rug on top. Just like a framed painting with mulitple borders, you add a border around your smaller but more interesting rug; allowing it to stand out by framing it.
Where can you do this? You can start by your front door or entry way with two similar shaped rugs, one slightly larger than the other for a more interesting and detailed look. It also works in the kitchen with two runners, in the living room, or even the bedroom or hallway. And of course, you can create the same look outside on your patio or porch to define the outdoor seating or dining area.
A more intentional and refined look is done by layering two different textures like a flat woven natural fiber rug underneath, with a smaller more patterned colorful rug on top. Of course, the better quality rug, the more expensive it will be to create this look, but you can also create it for so much less if you use a spare or buy a second hand rug.
Coupling rugs is great home decor idea that is easy to do, and can be removed or improved at any time. Its a high-priced look for very little investment.
9. All Steamed Up
Steaming your curtains, and even your bedding, will make these fabrics look well tailored and customized and all it takes is time for results that are worthy of royalty. Sounds like hard work, right?
Again, what you are looking for is creating contrast. That might mean steaming your bed linen but leaving curtains natural or maybe the other way round for a cozy bed linen look at tailored hotel looking curtains.
Steaming allows fabrics to hang effortlessly for a high end expensive look. Whether its your living room, bedroom or home office, its worth taking the time to consider this look.
Most of us don't have the time to do this regularly, but with a great steamer, you can steam your major pieces quickly. Once you have started you might find its worth the effort. There are some fabrics like linens and some cottons that look perfect as they are. Again, its the contrast you are looking for.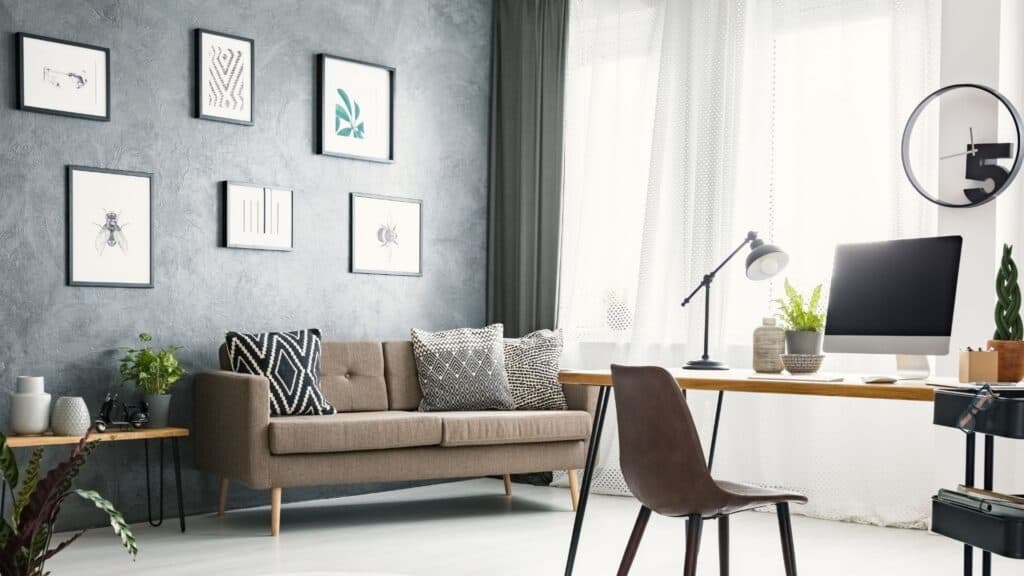 10. Visual Shape Shifter
Added together, these layered home decor ideas become a chorus to create an elevated look. We've looked at mixing textures, but another overlooked designer detail is mixing shapes; like different shaped furniture, lighting and decor pieces.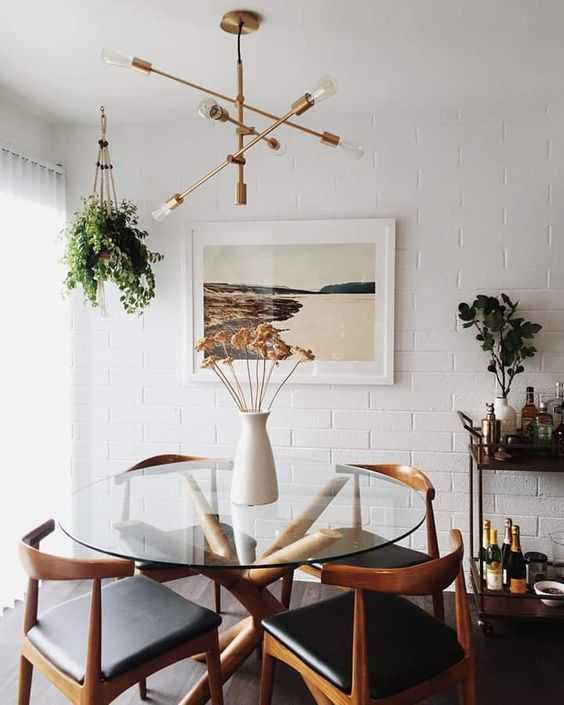 Contrasting shapes and sizes are two ingredients that make rooms memorable and interesting. Something that's unexpected and even surprising. If everything in your home is a constant series of lines and rectangular and square shapes, you need something to break it up or else its not visually appealing. You need a pattern interrupt to get attention. But you also need curves to soften and balance the curves for a cozier more welcoming feel.
Curves are on trend because they are a perfect way to soften a room and create stressless rooms.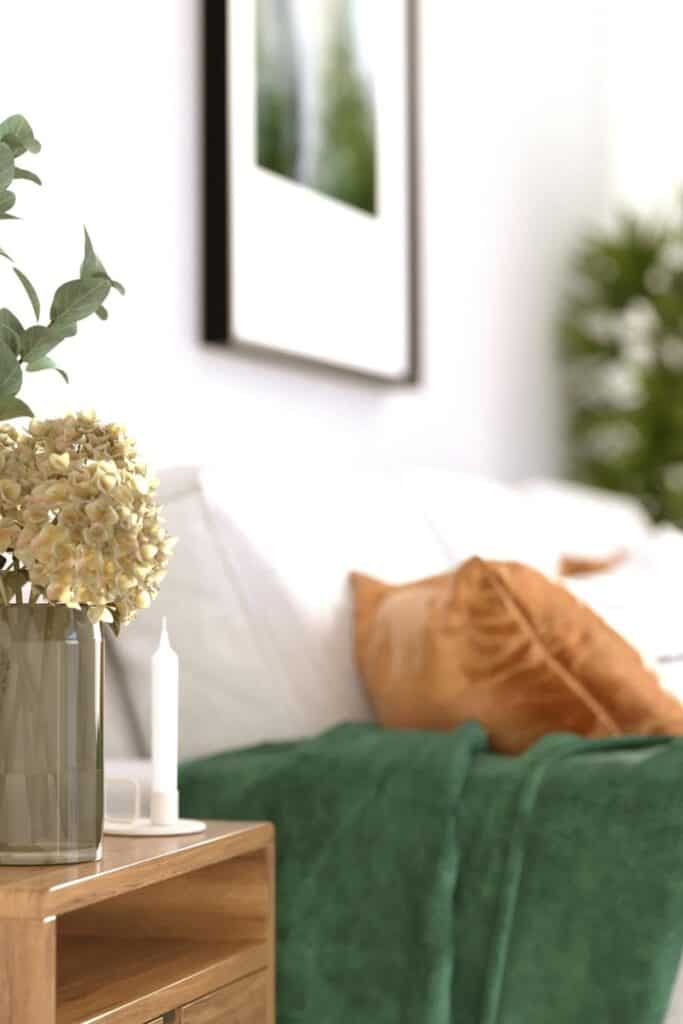 Curved sofas, coffee table, rugs, vases and mirrors are just a few things you can add to your rooms to make them visually more interesting. Bring in a new shape whenever you can. Even small pieces layered throughout the room will make it feel harmoninous and exclusive.
You can go bigger with large architectural features like arches or round windows. Unexpected shapes are fancy and add glamor.
These 10 home decor ideas are the perfect way to create grandeur with high-end designer results.