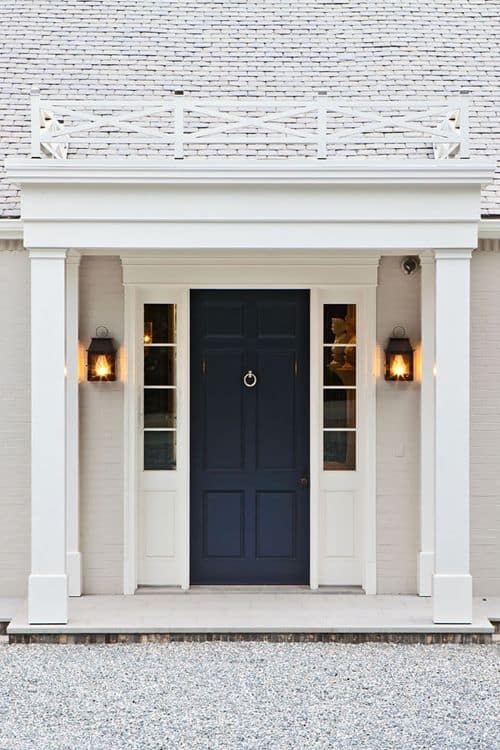 Your front door design can have a lasting impact on your home's appearance and curb appeal. Its the first impression that family and friends get as they walk into your entry. A quality door can be expensive and if your front door is made of wood, fiberglass or steel and has a few more years of use, then here are some front door ideas to update it. It will cost a few dollars, and some time, to update your door but a lot less expensive than a brand new door.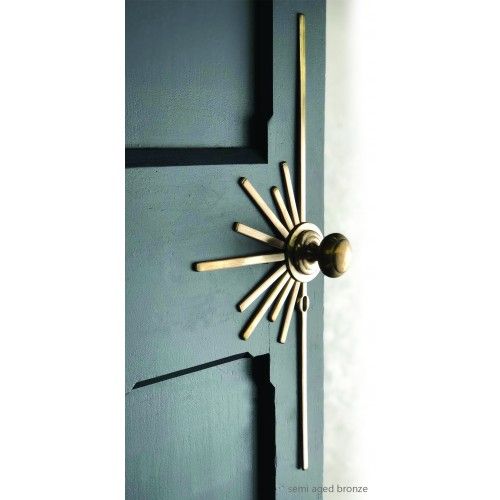 1. Front Door Paint Colors or Finishes: Transform Your Door
Your front door is like a canvas waiting to be painted. A fresh coat of paint or a new stain can work wonders for your home's curb appeal. Paint will not update your door but also feed it, and seal it from the elements.
Choose front door colors that mirror your personal style and fits with the style of your home. The best thing about front door paint and stains is that they are relatively inexpensive and easy projects to complete. And if you don't like the final result, simply start again with a different coat of paint or stain.
From classic reds to tranquil blues, the possibilities are endless. As with all painting be sure to prepare the surface properly and use high-quality paint or stain that's suitable to your climate. This will give you a long-lasting and vibrant finish.
Here are the most popular front door color trends;
Forever Front Door Colors
Classic Front Door Black: Black doors are timeless and versatile. They work well with a wide variety of home styles from traditional to modern to farmhouse. Black doors create a striking contrast and add sophistication to the exterior; grounding your entry.
Elegant Navy: Navy blue doors are gaining popularity for their rich and elegant look. They add sophistication and a sense of calm to your home's entryway; especially when paired with metallic door accessories.
Vibrant Red: A vibrant red door can make a bold statement. Red doors are often associated with a warm and welcoming atmosphere. They add a pop of color to a more neutral exterior.
Earthy Greens: Earthy greens, such as sage or olive, have been trending. These shades evoke a sense of nature and tranquility and can work well with homes nestled in greenery.
Soft Gray: Gray doors are a popular choice for those seeking a more subtle and neutral look. Light gray or charcoal gray doors can blend seamlessly with various home styles.
Statement Colors: Unconventional colors, such as deep plum, teal, or mustard yellow, are perfect if you want to make a bold statement and express a unique style.
Two-Tone Doors: Two-tone doors, where the external and interior sides are painted different colors, allows homeowners to have a more neutral exterior color while enjoying a vibrant interior door color.
Wood Stains: Natural wood stains were and continue to be a classic choice for a classic and warm appearance. Wood doors can add character to your home's façade.
Front Door Paint Color Trends
With Boho and Maximalist styles now trending, expect to see these front door styles.
Boho Influence: Choose bold and vibrant door colors that stand out against the backdrop of your home's exterior. Consider shades like deep coral, sunny yellow, or electric blue to capture the Boho spirit.
Maximalist Influence: Maximalism celebrates an eclectic mix of colors. Choose a front door color that contrasts with your home's exterior, making it a striking focal point. Combining multiple bright colors or opting for a rich, jewel-toned hue can achieve a Maximalist effect.
2. Decorative or Eclectic Hardware: Elevate Your Entryway with Stylish Hardware
Sometimes, it's the little things that make the biggest difference. Upgrading your door's hardware can instantly elevate its appearance. Swap out a tired old knob or handle for a sleek and stylish model. Don't forget about the door knocker—it's the first thing guests see when they approach your home. Choose hardware that matches your home's style, whether it's traditional, modern, or somewhere in between.
If you want to update your door's hardware without a complete overhaul, consider changing the backplate of the knob or handle. This small change can breathe new life into your entryway and give it a polished and pulled together look. You can also match hardware finishes with other elements like outdoor lighting fixtures.
If you want a real change, go for Maximalist and Bohemian front door designs, which loves to mix and match styles for a unique and personalized look.
Boho Influence: Bohemian design embraces the unconventional and eclectic. Look for door hardware that stands out with intricate designs, colorful enamel finishes, or even vintage inspired pieces. Mix and match hardware elements to create a unique and personalized look.
Maximalist Influence: Maximalism encourages the use of diverse styles and textures. Consider door hardware with a mix of materials like brass, iron, and ceramic. Ornate and eye-catching hardware can add a touch of opulence and personality to your front door.
3. Patterned, Carved and Textured Doors
If you have a patterned, carved and textured door use paint, stain or waxes to enhance different parts of your door to make it shine, instead of replacing it. White or dark waxes work well in carved or embossed designs. Test a patch and quickly removed it if its not to your liking. Waxes like paints protect and feed your door so it will last longer and look more stylish.
If you are going for a more Maximalist and Boho look;
Boho Influence: Choose a front door with carved patterns, raised panels, reclaimed wood with a weathered texture or a textured finish. Natural wood doors with intricate carvings or reclaimed doors with weathered textures can capture the Boho aesthetic.
Second hand stores often have carved and textured front doors from people who are going modern or minimalist. This is your opportunity to get a door that is unique for just a few dollars and in return create an entry that has drama, personality and style.
4. Lush Plantings: Vibrant Greenery is On-Trend
When you change or add decorative planters, pots with vibrant flowers or greenery near the door you add a slice of grandeur and symmetry to your front door design.
1. Front Door Modern Style:
Sleek Planters with Architectural Plants: Simplicity and clean lines are key. Opt for sleek, minimalistic planters with plants like tall, slender bamboo or sculptural succulents. Place planters on either side of the front door for a modern and elegant look.
2. Industrial Style:
Metallic Planters with Hardy Greenery: Industrial design often features raw materials and a utilitarian style. Use metal planters, such as galvanized steel or rusted iron containers, to add an industrial edge. Plant hardy greenery like ornamental grasses or evergreen shrubs for a low-maintenance but striking front entrance.
3. Hamptons Style:
Classic White Planters with Coastal Plants: The Hamptons style is known for its coastal charm. White planters, reminiscent of seaside cottages, are a perfect fit. Plant coastal-themed vegetation like hydrangeas, boxwoods, or ornamental grasses. This front door design combination will evoke a breezy, beachfront feel.
4. Coastal Style:
Weathered Wood Planters with Nautical Flair: For a coastal-inspired look, weathered wood planters add rustic charm. Fill them with beachy plants like sea oats, beach daisies, or palm trees. Include nautical accents like rope detailing or anchor motifs to complete the coastal theme.
5. Boho Style:
Place potted plants and hanging planters on your porch or steps. Incorporate vibrant flowers, succulents, and cascading greenery to create a lively and welcoming atmosphere for curb appeal.
6. Maximalist Style:
Consider large, eye-catching planters filled with exotic and colorful plants. Use the outside space around your front door to create an opulent and visually interesting green oasis.
4. Apply a Stencil or Decal: Personalize Your Portal with Creative Stencils
Want a unique and personalized front door design? Get creative with stencils or decals. You can apply intricate designs or simple patterns to your door's surface, instantly giving it a one-of-a-kind look. Whether it's a geometric pattern or a nature-inspired motif, stencils and decals offer endless possibilities for self-expression.
You can choose something unique and creative or a message that is welcoming and heartfelt. There are a lot of decals and stencils to choose from and you can change them for each season or occasion.
Adding a kickplate to your front door design is also stylish and practical.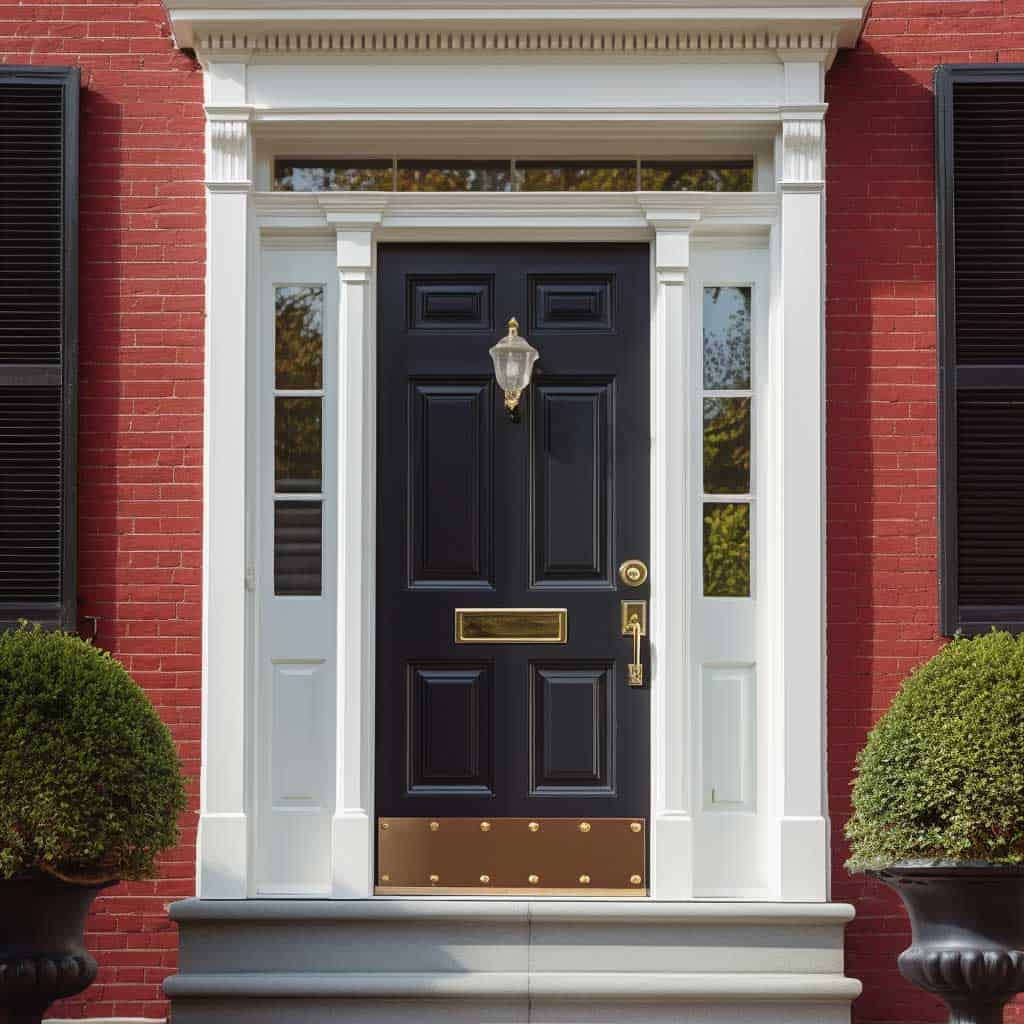 5. Door Wraps for Creative Expression: Transform Your Door with Artistic Prints
Door wraps are gaining popularity as a unique way to personalize and enhance your front door's appearance. These wraps are essentially adhesive sheets with various designs, patterns, and even artwork that can be applied to your door's surface.
Whether you want to create a beachy vibe with a coastal scene or add a touch of artistry with abstract patterns, door wraps offer endless possibilities for creative expression.
They can be a temporary or semi-permanent way to change the look of your door. Plus, they can be easily replaced to suit different seasons or design preferences. Door wraps provide homeowners with a customizable way to make a statement and showcase their personality through their front door.
6. Add Molding and Trim to Your Front Door Design: Frame Your Door with Elegance
Looking to add a touch of sophistication to your entryway? Install decorative molding or trim around your front door. This simple addition frames the door, making it feel more substantial and refined. You can paint or stain the molding to match your door or your home's trim for a cohesive look.
7. Upgrade Lighting: Illuminate Your Entryway in Style
Don't underestimate the power of outdoor lighting. Upgrade your lighting fixtures to complement your door's style and enhance its overall appeal. Wall sconces or an elegant overhead light can add warmth and sophistication to your entryway, making your door the star of the show, even after dark.
8. Create a Front Door Design Focal Point: Make an Entrance with Architectural Elements
Elevate your entry with architectural elements. Columns, pilasters, or a decorative pediment can create a focal point that draws attention to your door. These additions add depth and character to your home's façade, making it truly memorable.
9. Clean and Maintain: The Power of TLC: Keep Your Door Pristine
Sometimes, all your front door décor needs is a little love and care. Clean it, polish the hardware, and make any necessary repairs to keep it looking its best. A regulalry maintained door not only looks great but also stands the test of time.
You can transform your front door entry into a striking focal point and elevate your home's curb appeal, all without the need for a new door. These budget-friendly and creative ideas will give your home's entry a fresh look that displays your unique style. If you struggle with creating your own personal style, follow these steps to create your own individual classic style that is unique to your home and won't outdate.