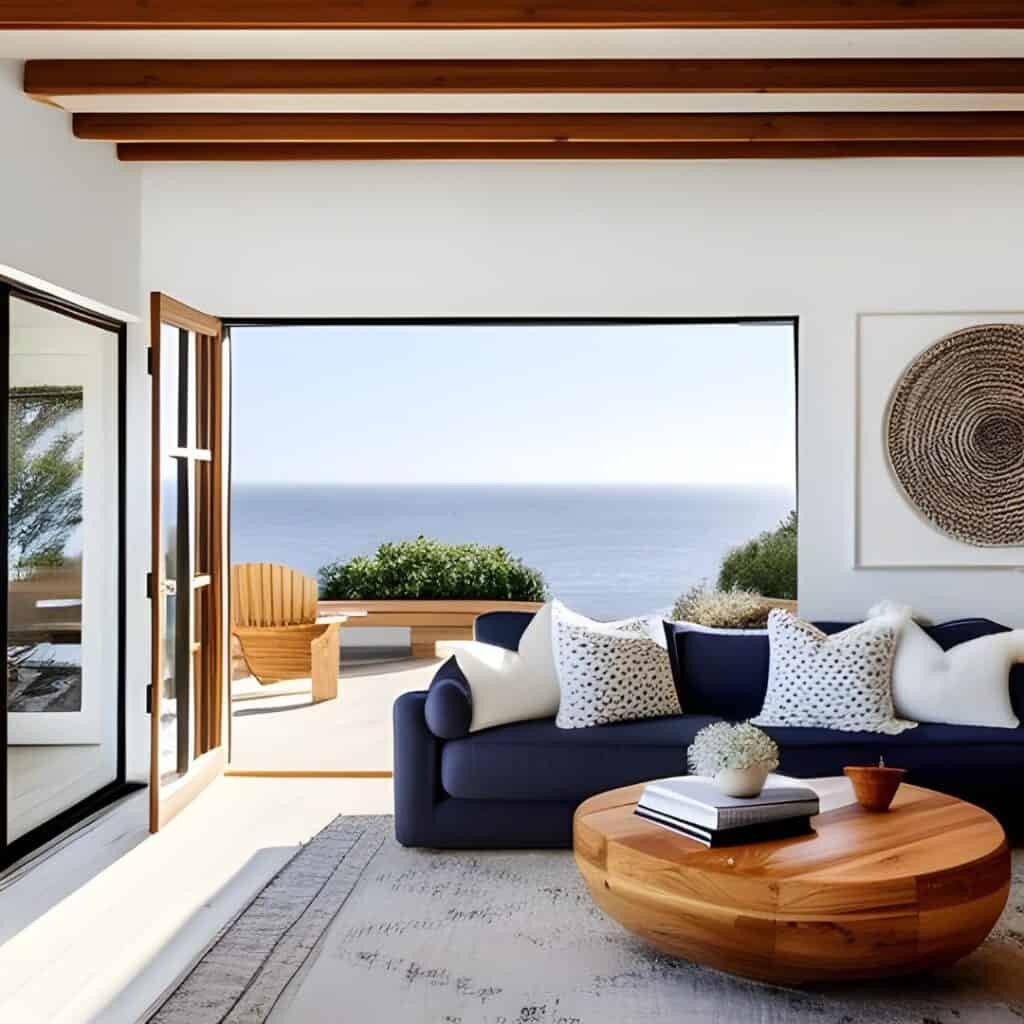 What is California Cool Style?
California Cool is about capturing the essence of a lifestyle; even if you don't surf. Characterized by a lightness with calm and refreshing rooms; with notes of citrus and salty ocean air, along with the faint sound of waves crashing in the distance. It's like a beautiful summer daydream that lingers in the air. Here are 10 steps to create your own Cal-Cool Look.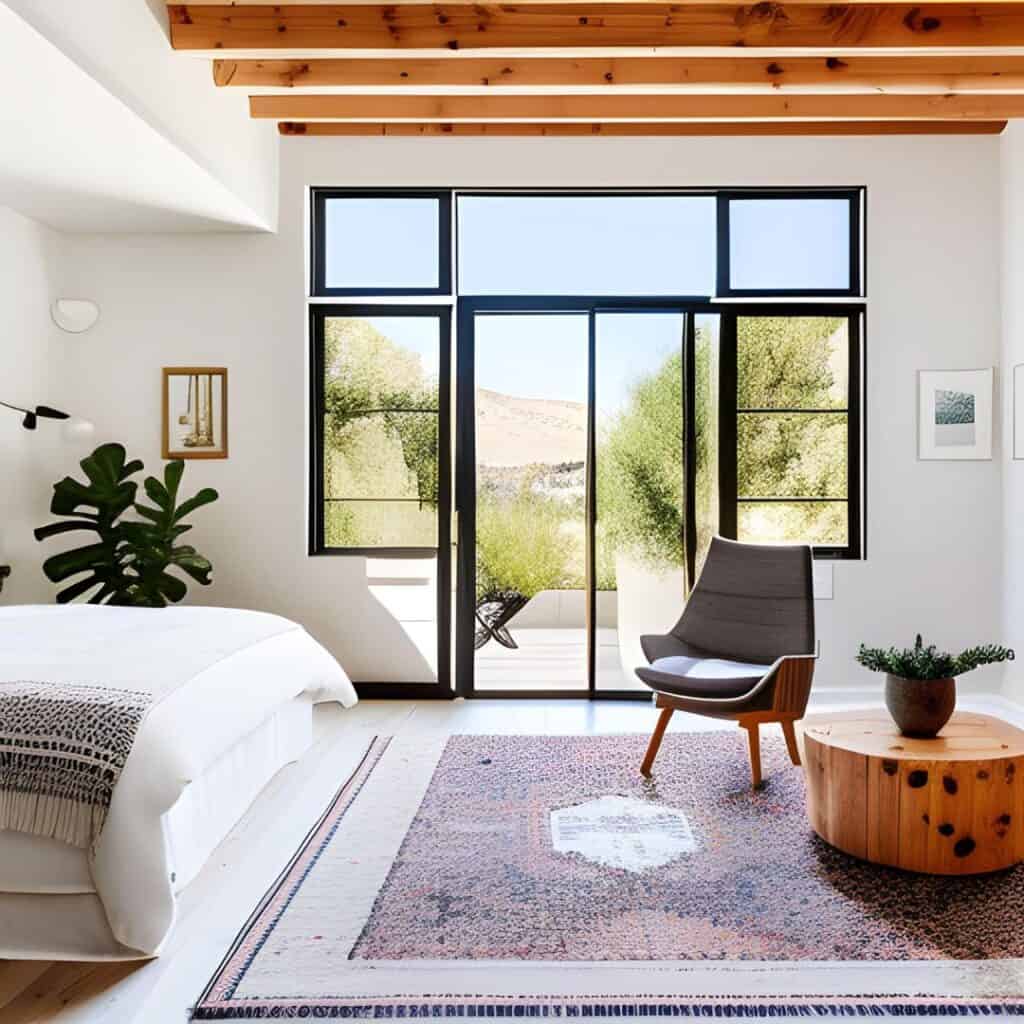 The aesthetic is minimalistic yet warm and welcoming, cleverly blending contemporary Coastal and Southwest interior design. Although it's not strictly modern or traditional, it strikes a perfect balance between the two. Despite its casual, relaxed nature, its disciplined and refined; which is why its hard to create.
The look lands somewhere between Scandi, Coastal Grandmother, Boho and Minimalist with a more modern, elevated edge and soothing meditative natural feel using organic shapes and textures, eclectic patterns and laidback styling found in Coastal Grandmother and Bohemian looks.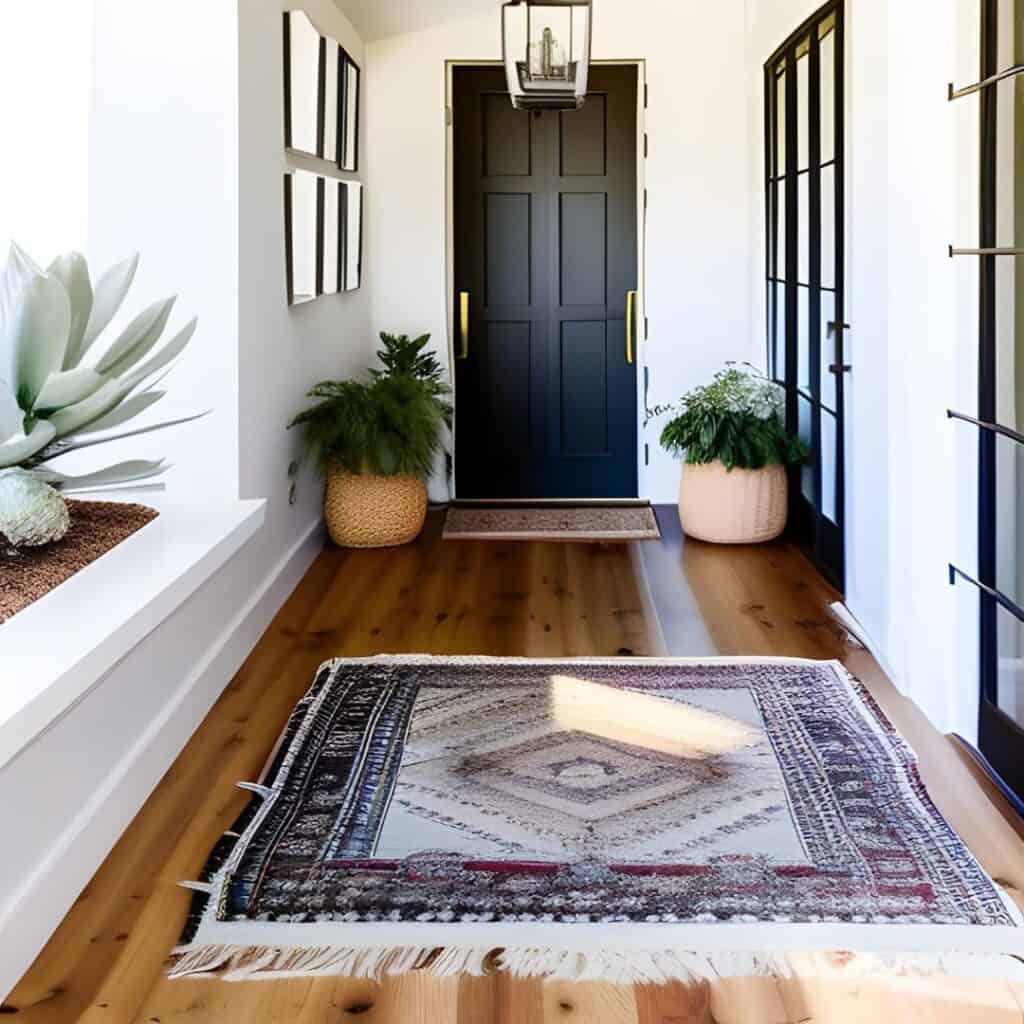 It borrows from all four looks, bringing in warm-toned whites, patterns and a laidback styling found in Scandi-Boho-style, neutral palette and natural materials, commonly found in Minimalist, with pops of interest and contrast; all used to create a fresh coastal feel. Its a great balance of hard materials like timber, wood or rattan, soft sand tones and textures.
What Makes the California Cool So Cool?
Dreamy summer days on a coastal getaway is the essence of this look. Its relaxed, chilled with a calming color scheme, with strong natural, organic textures. Its built in self-care; gentle and elevated.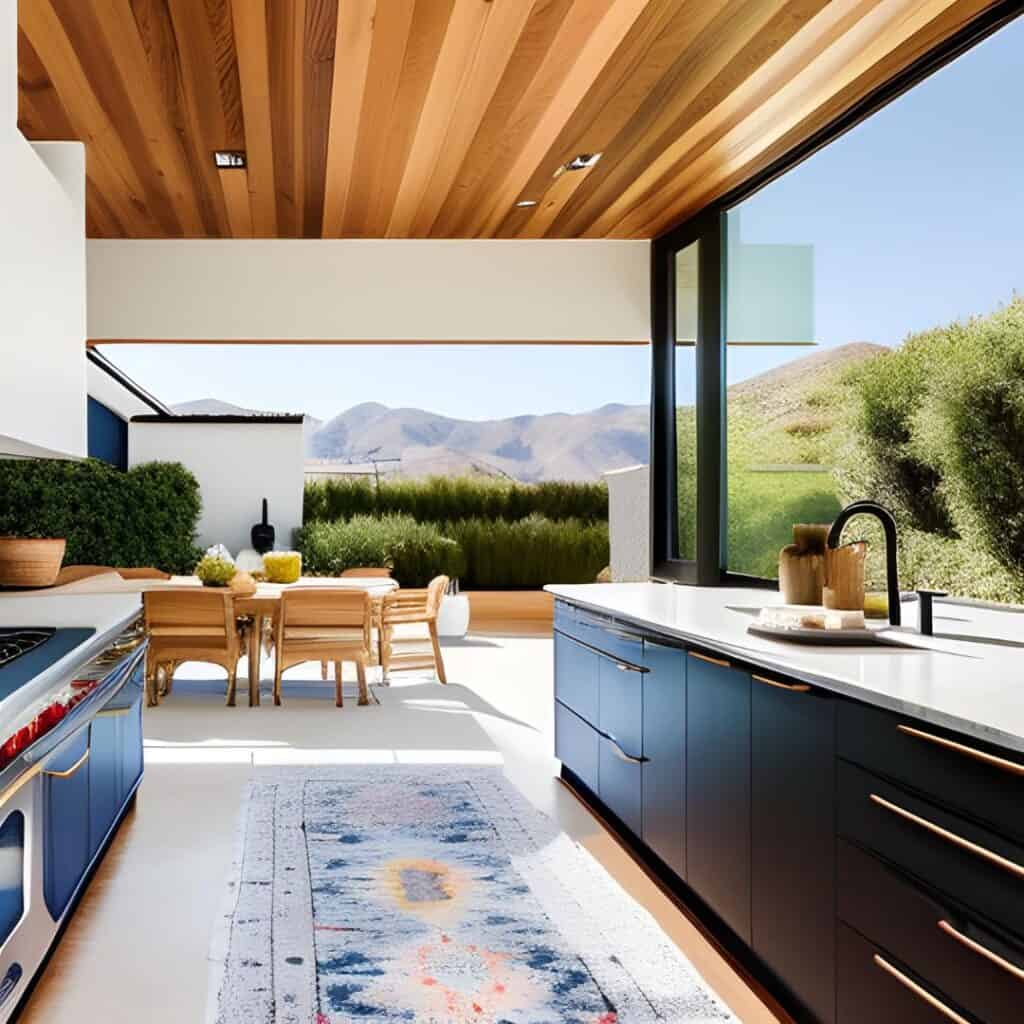 A mix of elegant clean lines and curves to create luxury living and the carefree vibe of coastal living. Not to be confused with nautical, coastal decor this is a tribute to the 1980's; laidback surfers, sun tans, sand and casual days that were long and filled with eternal hope, sunshine and beach parties.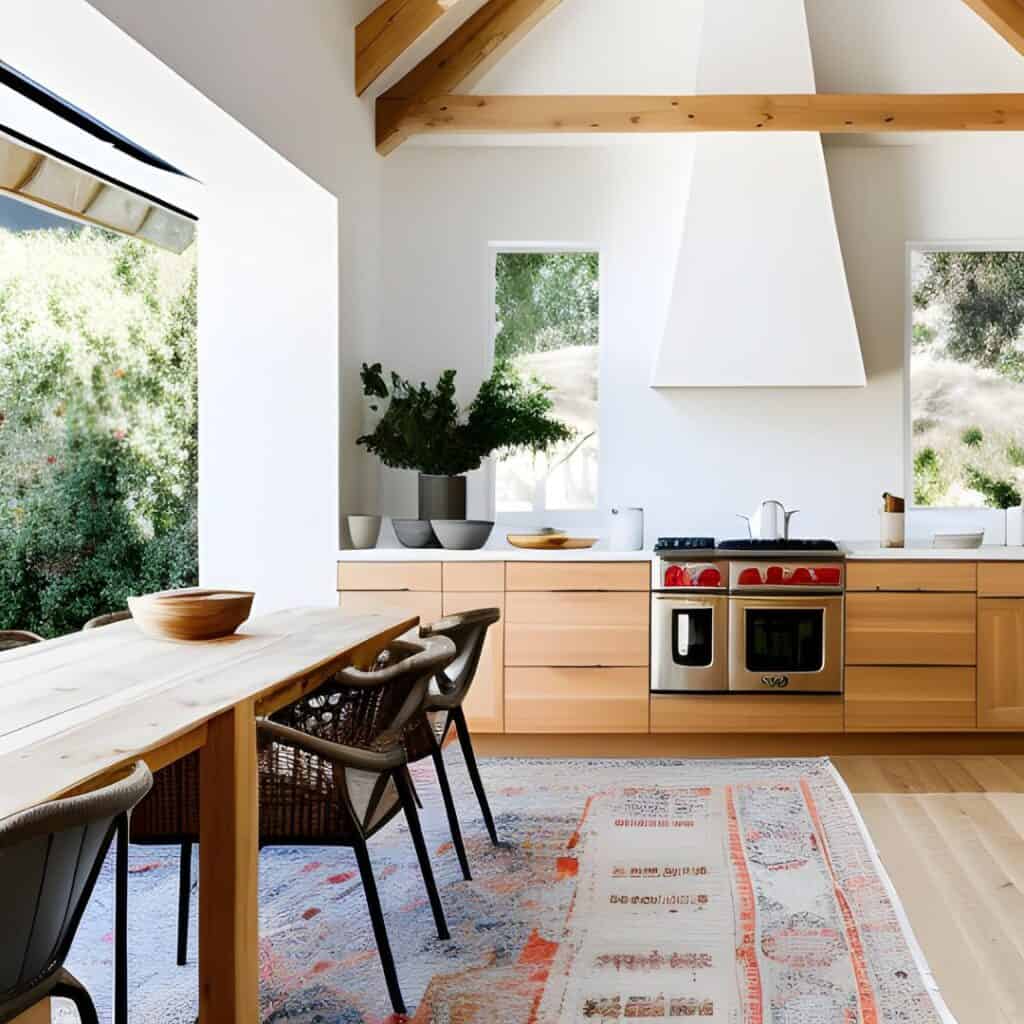 Cali Cool design trend focuses on natural light, connecting the outdoors with the indoors, earthy neutral color schemes, and layers of natural and organic fabrics and textures. Spaces often feel like luxury, upscale beach homes, restrained so rooms never feel stuffed or overfilled; instead relaxed and warm with woods, soft curved furniture for a cozy feel, and antiques with a curious and interesting travel vibe. Keep reading for 10 steps to create your own Cal-Cool Look.
Get the Look! California Cool Trend Color Palette
The interior design concept is a masterful visual feast with a cool white walls color scheme using the refreshing tone of light walls with a buff-pink undertone; reminiscent of white sands and pink summer sunsets.
Some like to add nautical blues of the sea and ocean while others prefer black accents, darker rich browns and reds in rugs, antique piece, wall decor, scultpures, throws and cushions. Both are a good choice since they don't need much to keep this clean look, radiant and chic.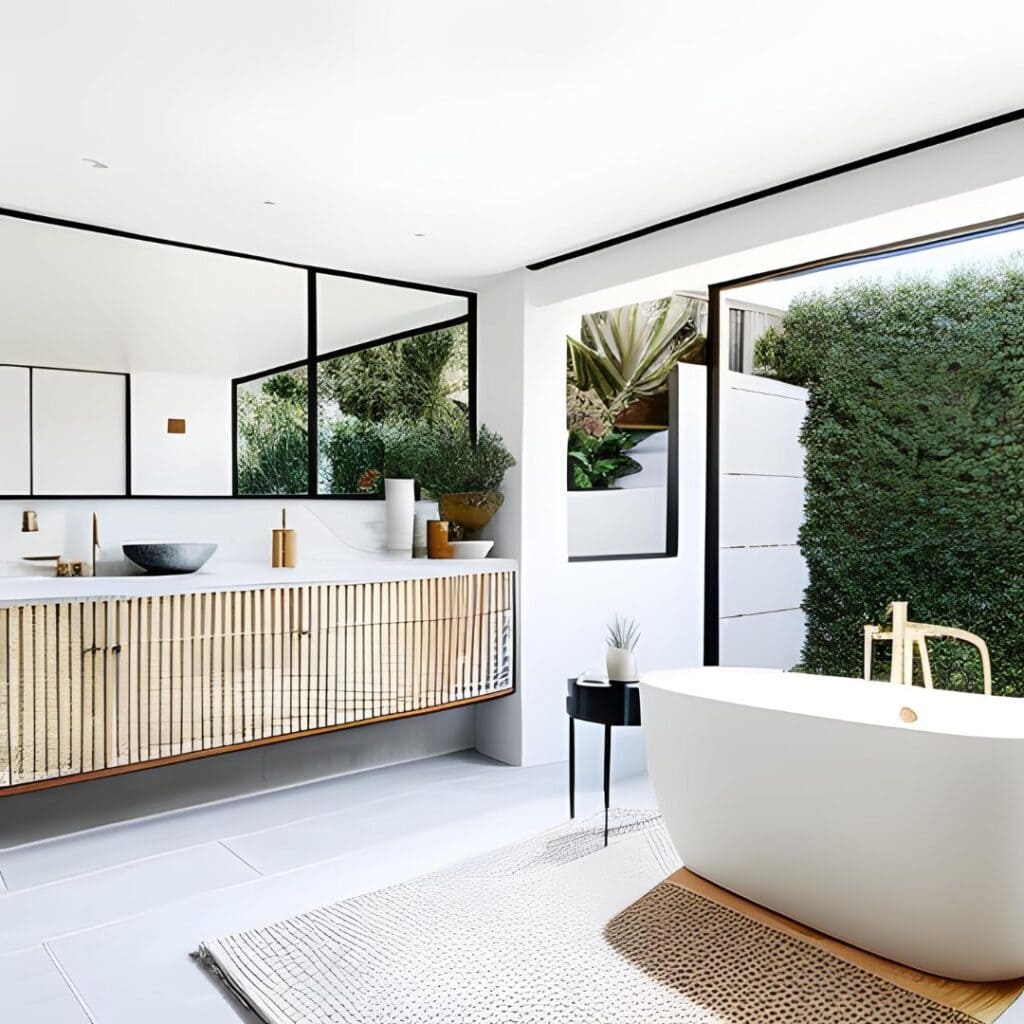 Capture the California-Cool Look Without an Interior Designer
This nature-inspired, gorgeous California look, evokes a cool summer breeze, using natural materials, white walls, and rooms that pour in with sunlight. What emerges is a Californian design aesthetic that's clean and sophisticated; cool, elegant and classic adding soft textures and materials like linen, cotton, wool, jute, and woods.
Contrast natural wood beams or floors, wood wall decor, leather, ceramics and wicker to keep the space balanced and visually interesting.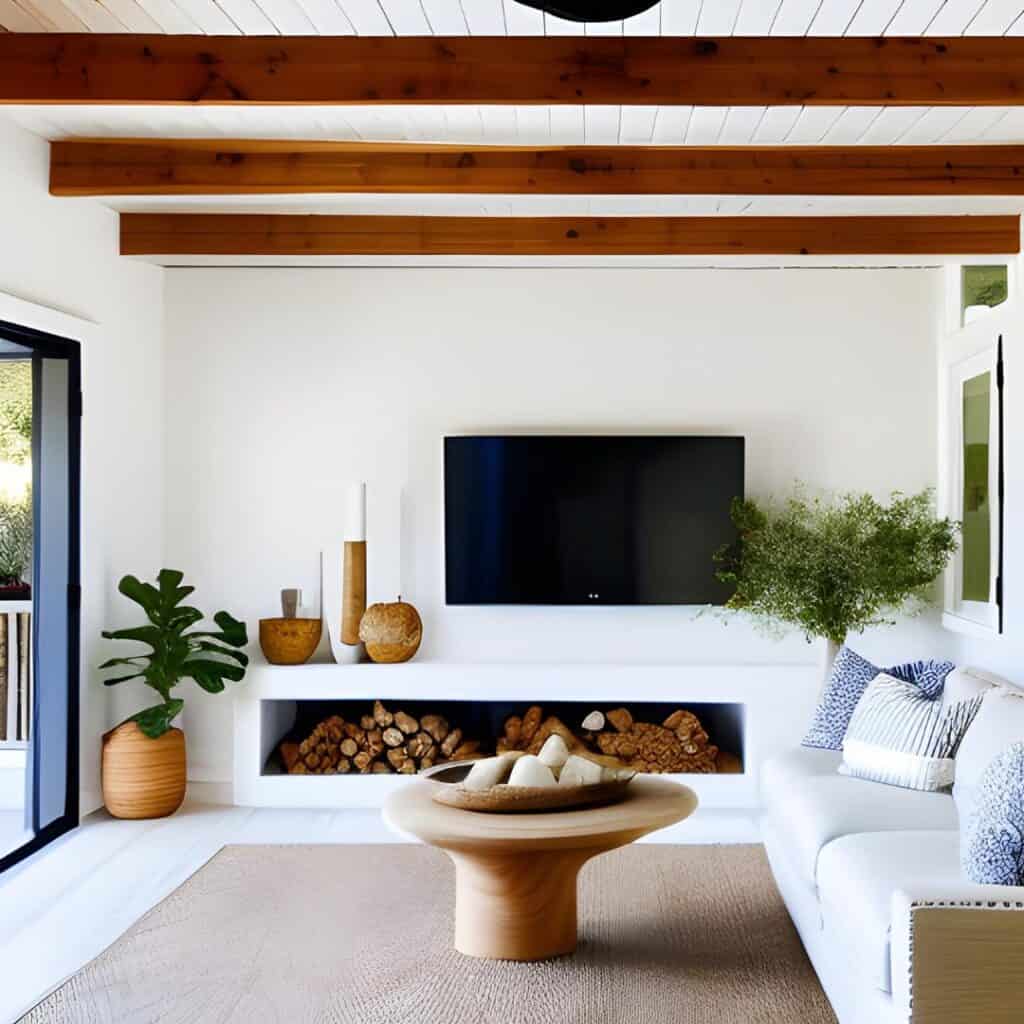 Here are 10 Rules for Calfornia Cool Style:
1. Organic Clean Natural Fabrics
Lean toward linens in bedrooms and living spaces and other soft, light, nautural organic fibers that mimic what you would find outdoors by the beach.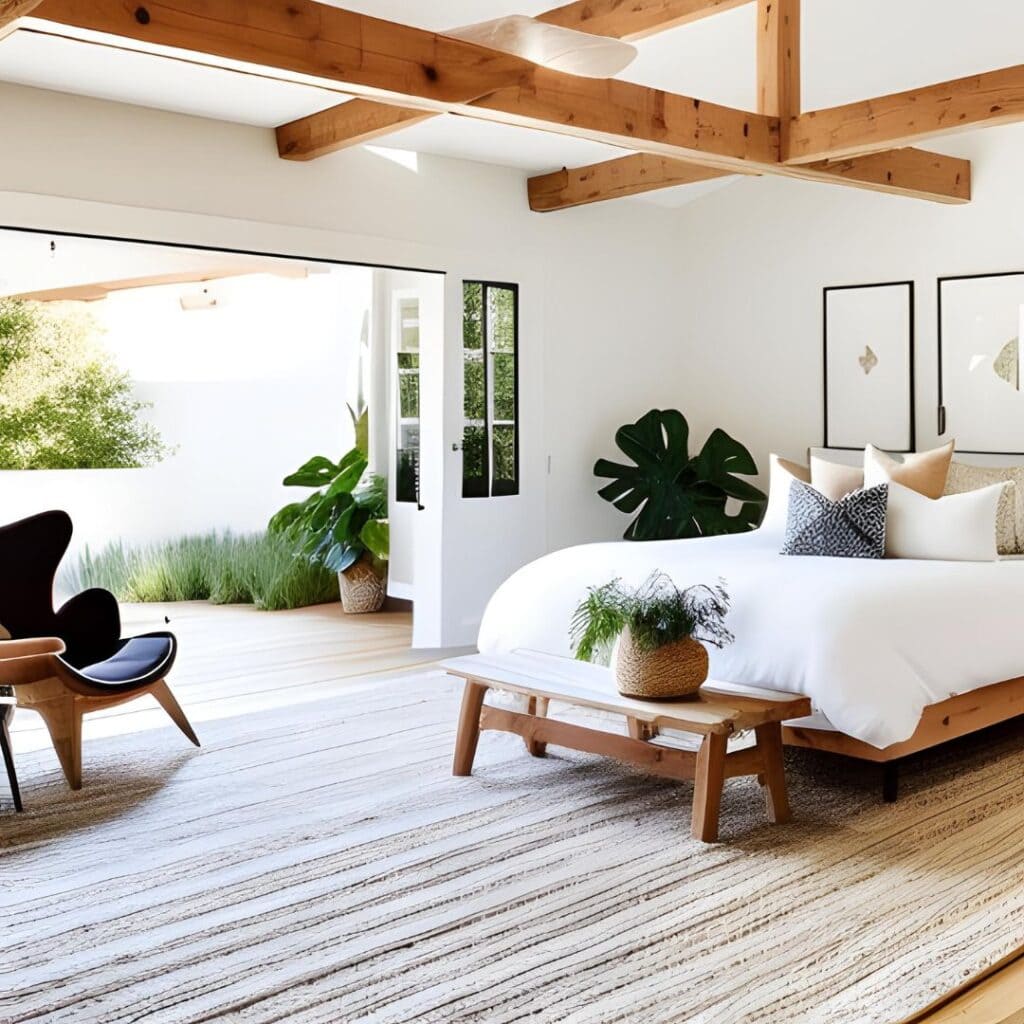 2. Keep Palettes Light, Monochrome or White Walls
Having a variety of textures, color and hues is vital, to avoid monochrome tones. Add light browns and beiges in natural textures to add warmth and depth. Use tones and colors with an undertone of pink or brown but still white to make the most of your light.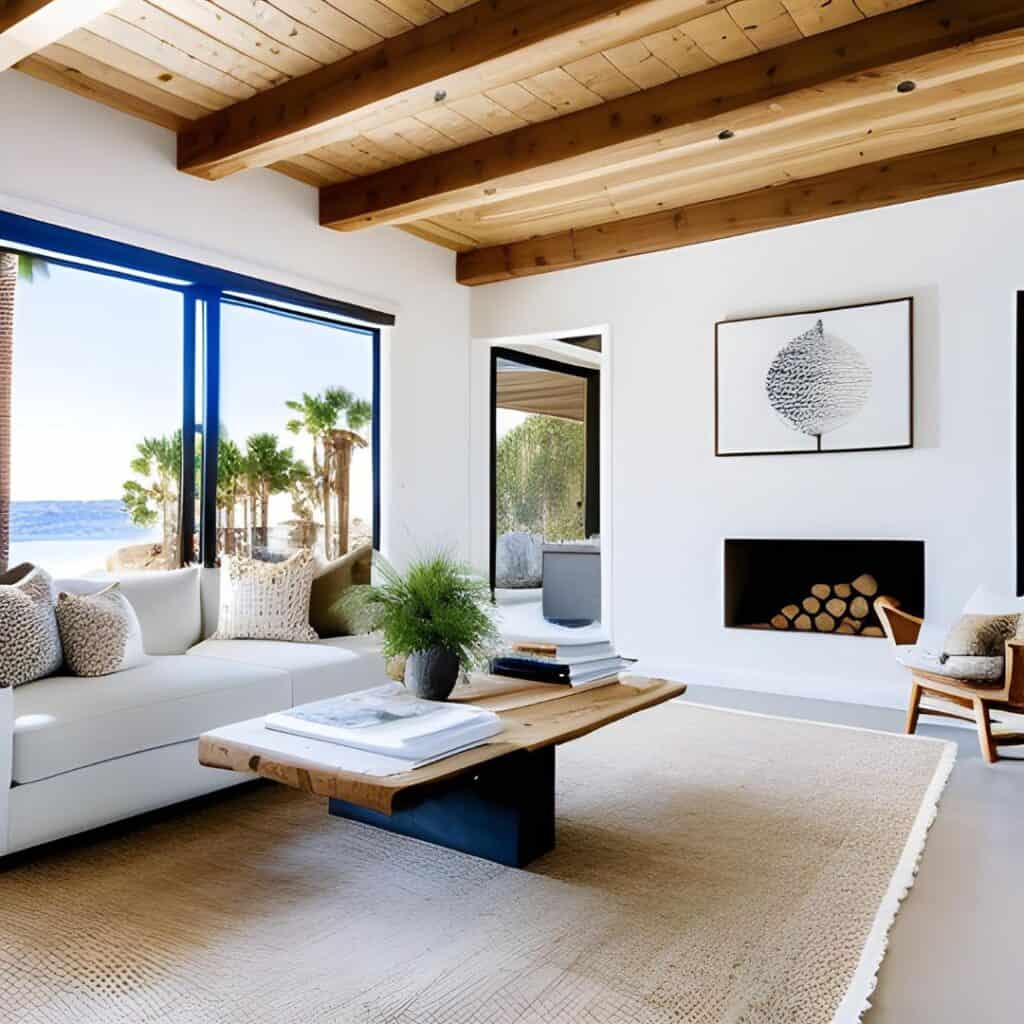 3. Warm Light Woods and Stylish Rattan
Warm wood tones are a staple part of this look and help to create the perfect lived-in look. It takes layers of textures to create the perfect relaxed lifestyle look and wood is one of the main players. Flooring, furniture and architetural features give this softer design a textured feel, often interpreted with a mix of an earthy color scheme with a coastal Bohemian feel.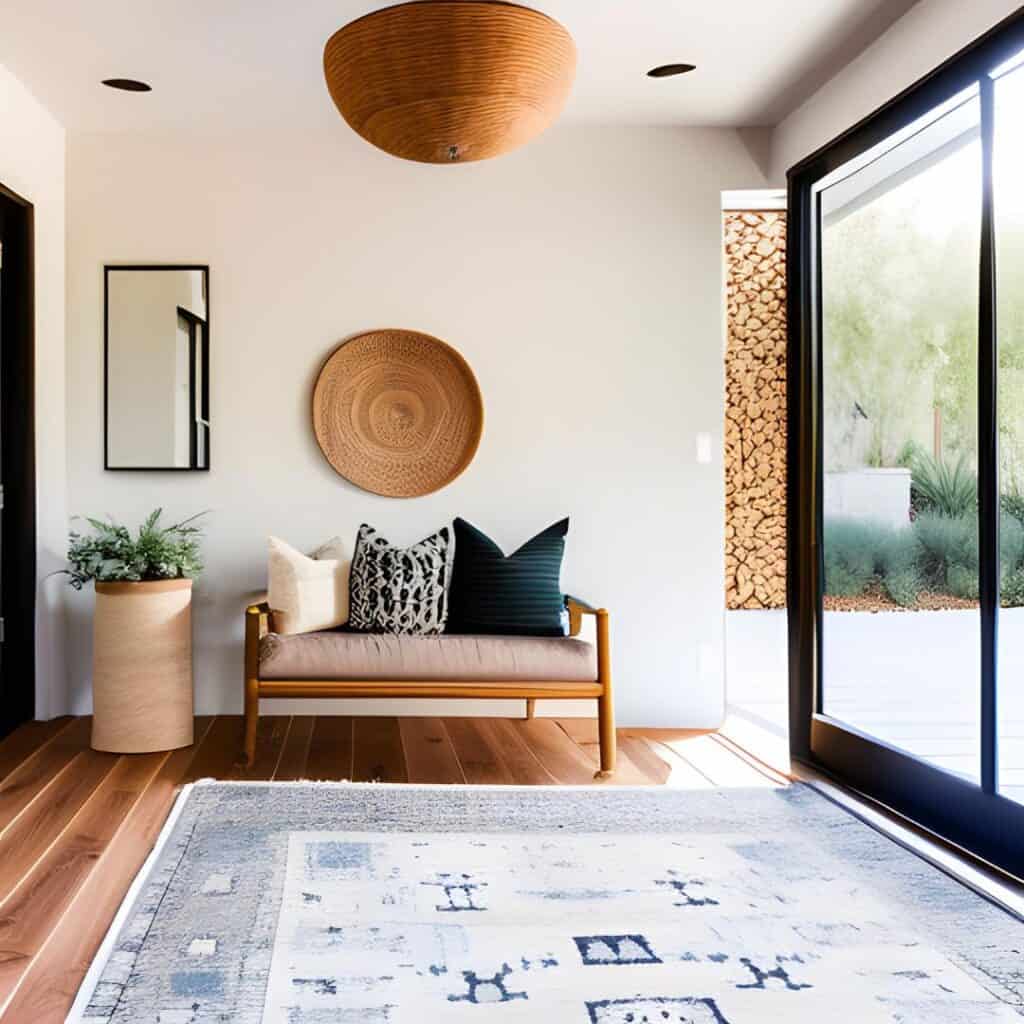 By mixing and matching wood finishes, you can create different looks that all play to this style: for industrial, vintage, mid-century or lived-in look, add reclaimed wood or furniture pieces with a sturdy, stronger feel with high-end clean pieces. Wood pieces, full of warm tones and texture, ground your rooms.
4. Lean Towards the Breezy Flow Cool Interior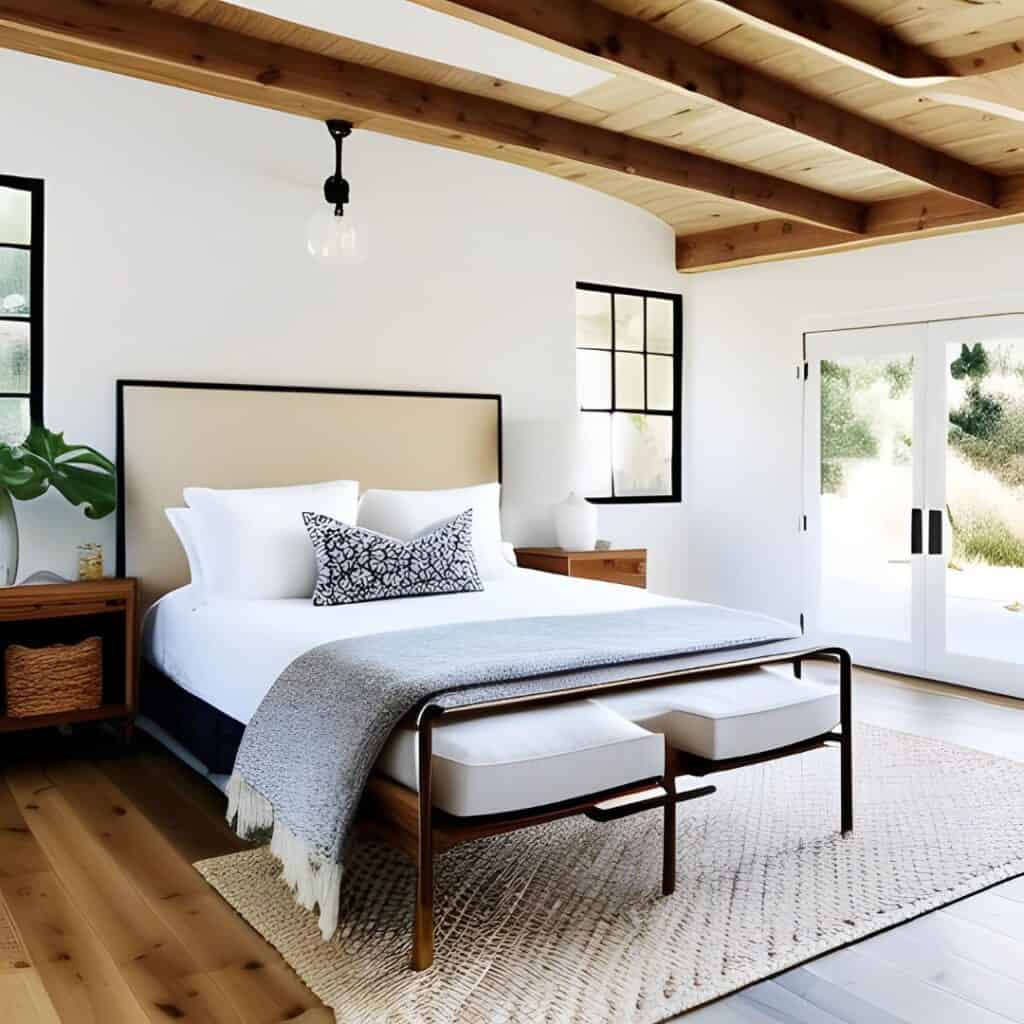 To maintain that breezy seamless feel, air from the outside should flow readily and easily between, through and around the inside. Large picture windows, bi-folds and doors that open widely give the feeling of more space and create this particular trend. Sheer window treatments or low-e windows open for maximimum airflow are a great choice since they don't restrict the amount of natural light coming in and connect your home's interior with fresh air outside.
5. Keep Outdoors as Luxe as Indoors – Think Laidback Surfer
When they're not surfing, laidback surfers spend most of their time walking around or washing off the sand and sea. There is no separation between indoors or outdoors. Its one organic space. California Cool shines by creating outdoor spaces that you can use as much as the inside. Elevate your outdoor space to mirror the inside by treating it as one. Ask; if there were no back door, what would the outdoor area look like? How would we use it? Carve out spaces to relax and bask. Add a pool, water features, edible gardens, or a full kitchen and a firepit or fireplace. Create an amazing space to be used summer and winter.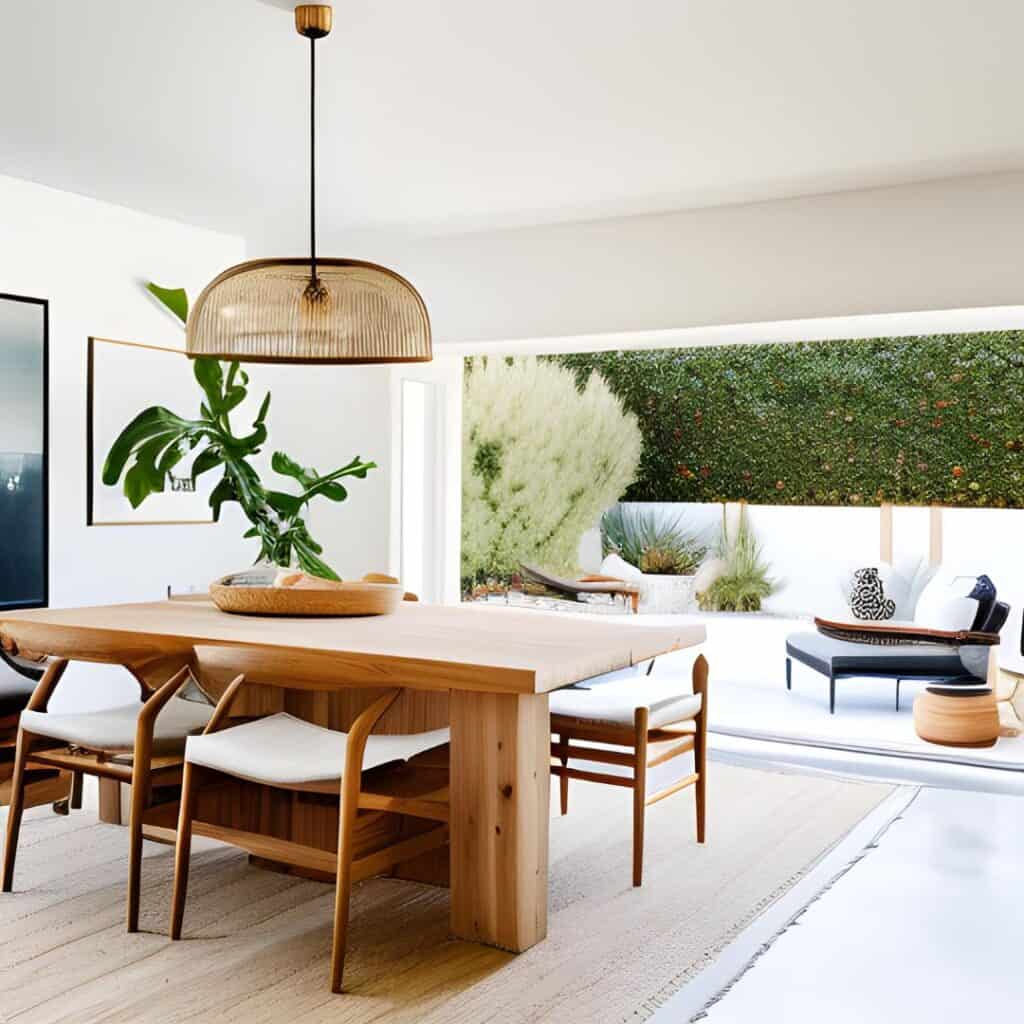 6. Cali Cool Keeps Lines Relaxed
This style might be 'relaxed' and 'casual' because there are no curling chesterfields or stiff, traditional upholstery. Lines are relaxed, and while overall casual, California Cool brings decor pieces and furniture that look lived-in and sophisticated for an elevated look. Chairs are designed to lounge around and spend time in but not sloppy or badly made.
7. Rugs – Cool Color Contrast
Rugs add pops of color and texture to an otherwise neutral color palette. Often placed on tiled or wood floors, upcycled vintage rugs or Jaipur runners work well for this trend and a coastal boho style; using blues or browns as the primary colors.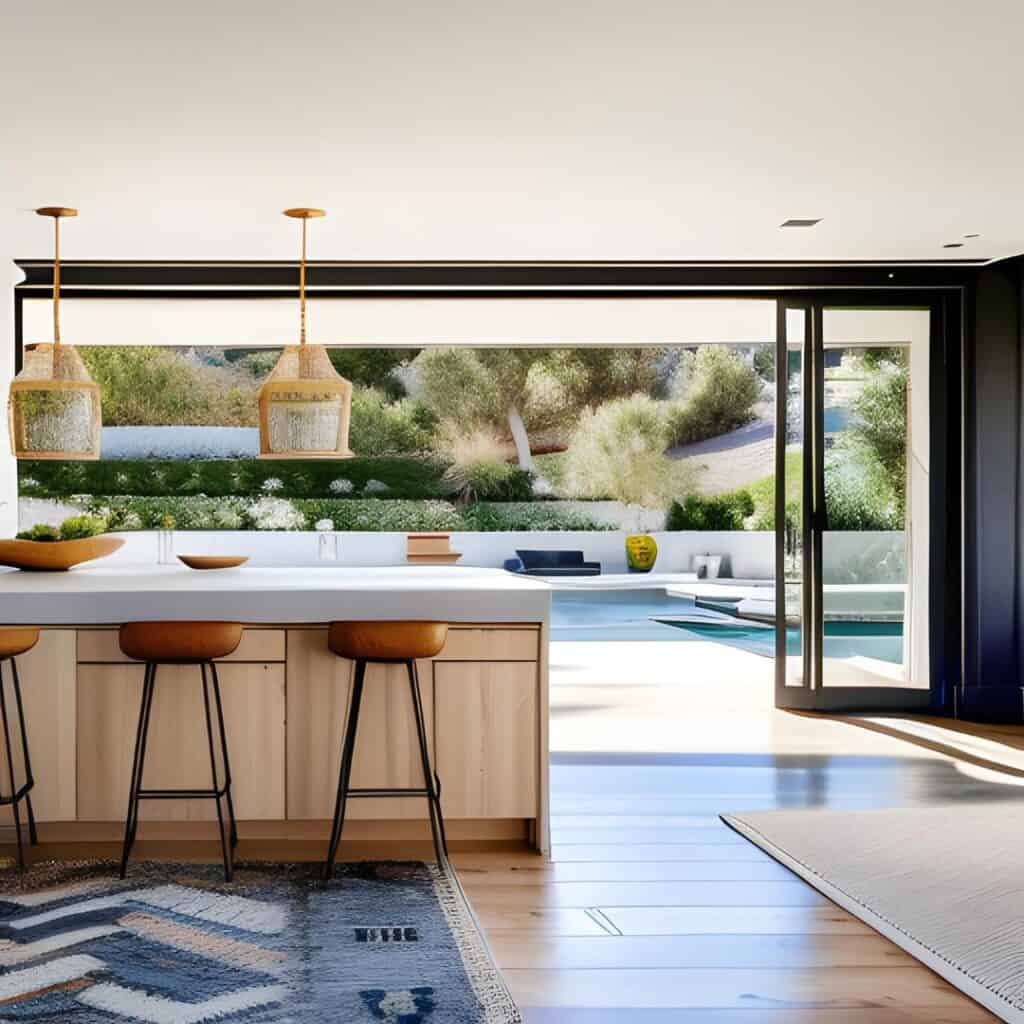 8. Create Shade with a Cabana or Pergola on Your Back Porch or Patio.
Stay outdoors and escape the sun undercover with a cabana, pergola or other outdoor cover. This is an easy add-on that will elevate your backyard design and extend the indoors to the outside. You can get very creative with fabrics and colors; go wild with patterns and prints. Add soft blues, yellows and oranges to plush outdoor lounge furniture. Remember, less is more in this style.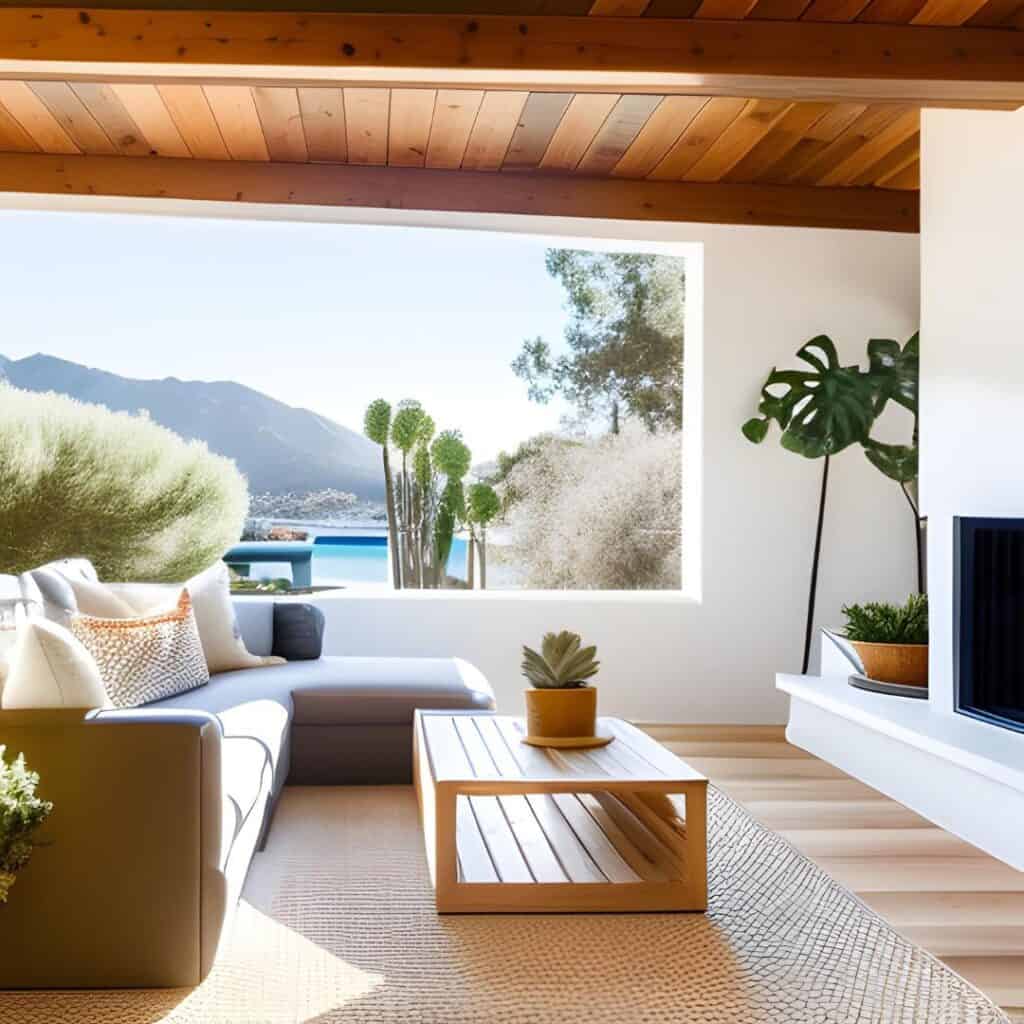 9. Avoid Kitschy Coastal Decor
California Cool mixes contemporary with antique furniture, art and eclectic pieces. There are themes and textures that hint at coastal style without being obvious. Its simply too cool for seashell and lighthouse decor. Think high-end resort; no kitchen signs to remind you 'You're on the Beach'; especially if you are thousands of miles from the coast. You want contrast; the texture of coarse light sand with silky strong palms, blue-green oceans and the hot bright sun. That is what you are capturing; indoors and outdoors.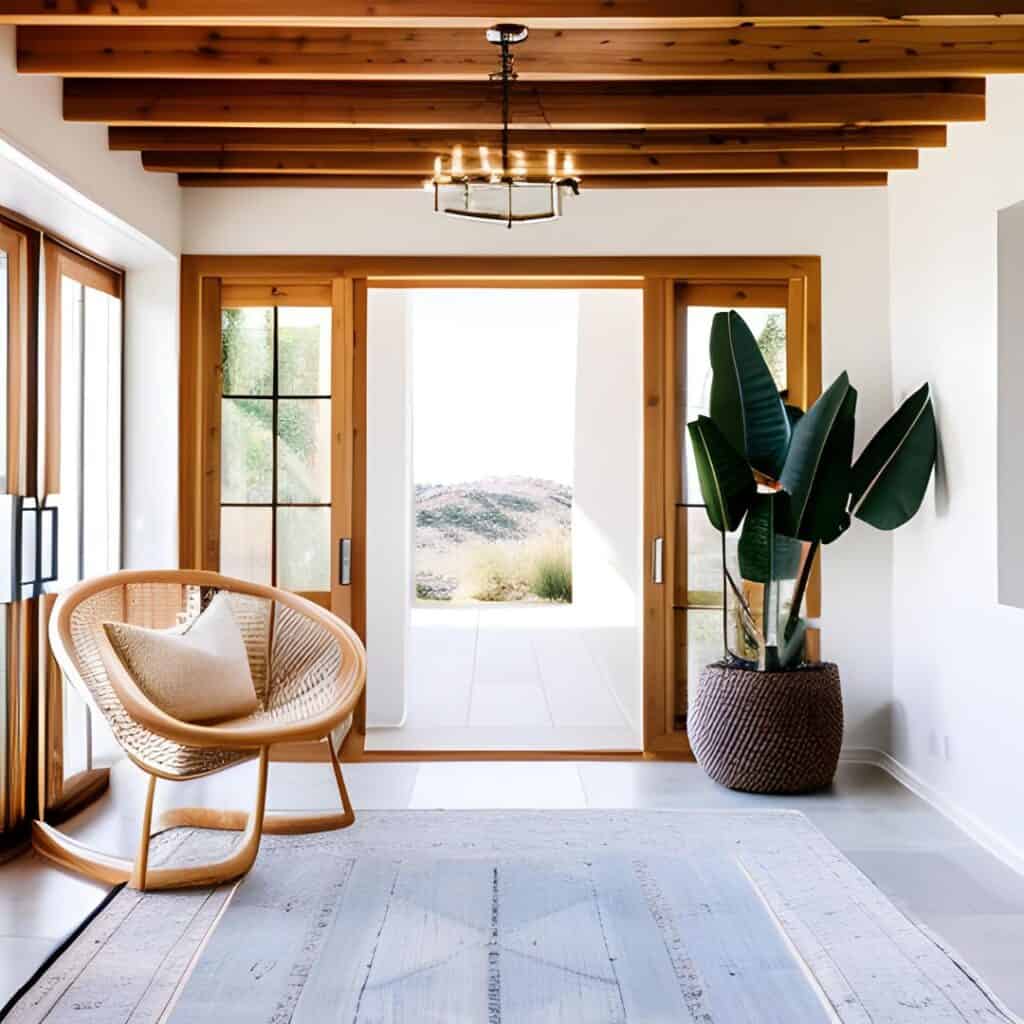 10. Tailored California Cool Interiors
Remember the discipline we talked about in the intro? This is where it gets real. While some associate this interior design trend with rooms of rattan and macrame, seagrass flooring and indoor plants, its best to go minimalist with these home decor elements for the purest California Cool look. Take care not to overaccessorize and take a tailored approach. Flow is your focus and making the most of space from indoors to out, from one room to another using investment pieces that can take sun, salt and being used day-in day-out.
Join up to our email list for more articles and updates. We are creating new products and would love to have you come along for the journey.