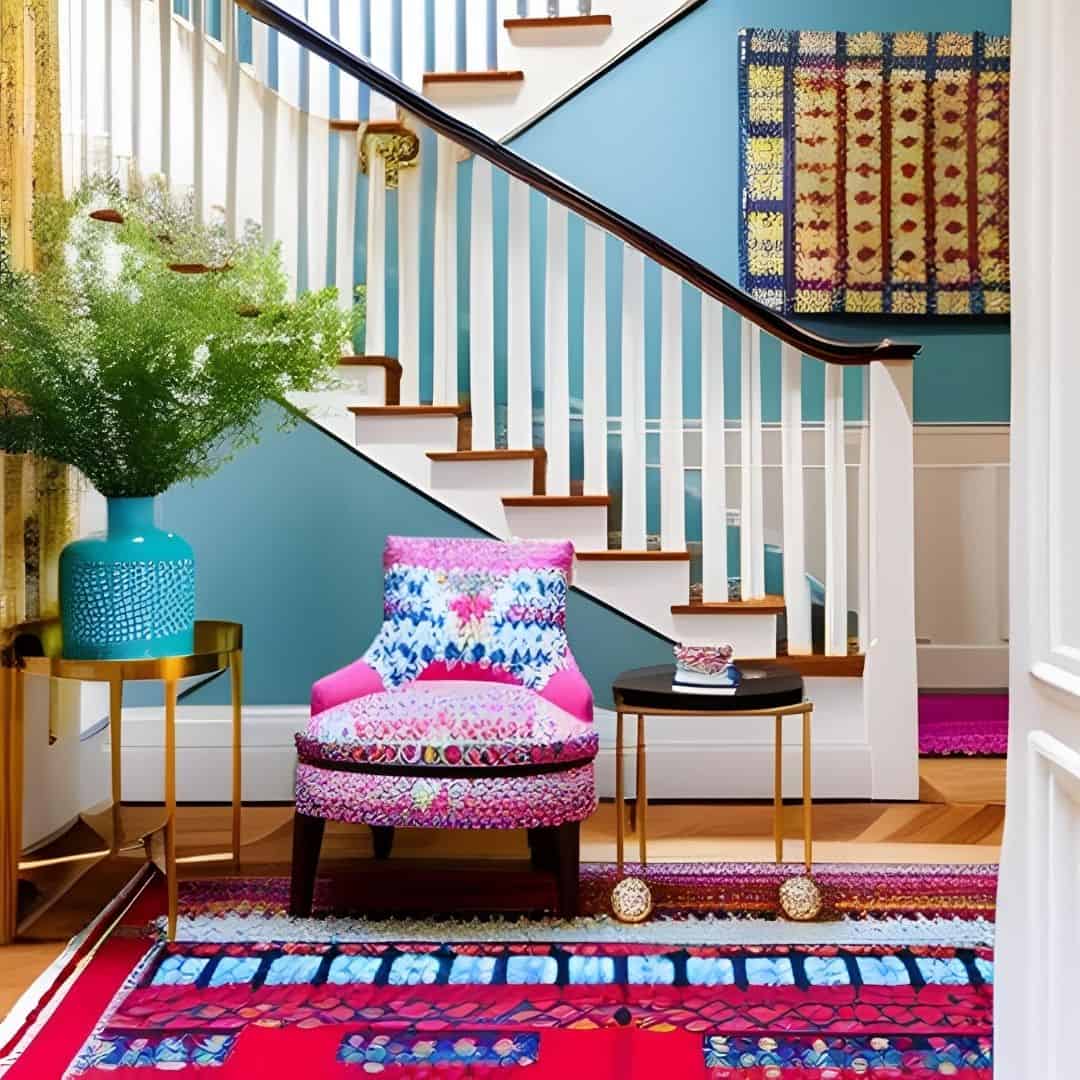 If a pulled together staircase design and entry seems like a distant memory, its time to brush up on a few staircase ideas, and get the inspiration you need to design an amazing, elegant and welcoming entryway. To really create a layered look, consider your staircase style and staircase features; straight or curved, spindles, railings, floor style and pattern, wall area for decorating, foyer size, is there plenty of natural light and understairs storage, seating, a nook and chandelier?
Its a Total Party When You Mix it Up With Color! Entry, Staircase and Wall Inspiration
Get your fashion fix and create effortlessly cool nooks and entryways with color; especially around the staircase. Cozy and inviting, chic interiors with unique finds are gorgeous to look at, and a dream to use.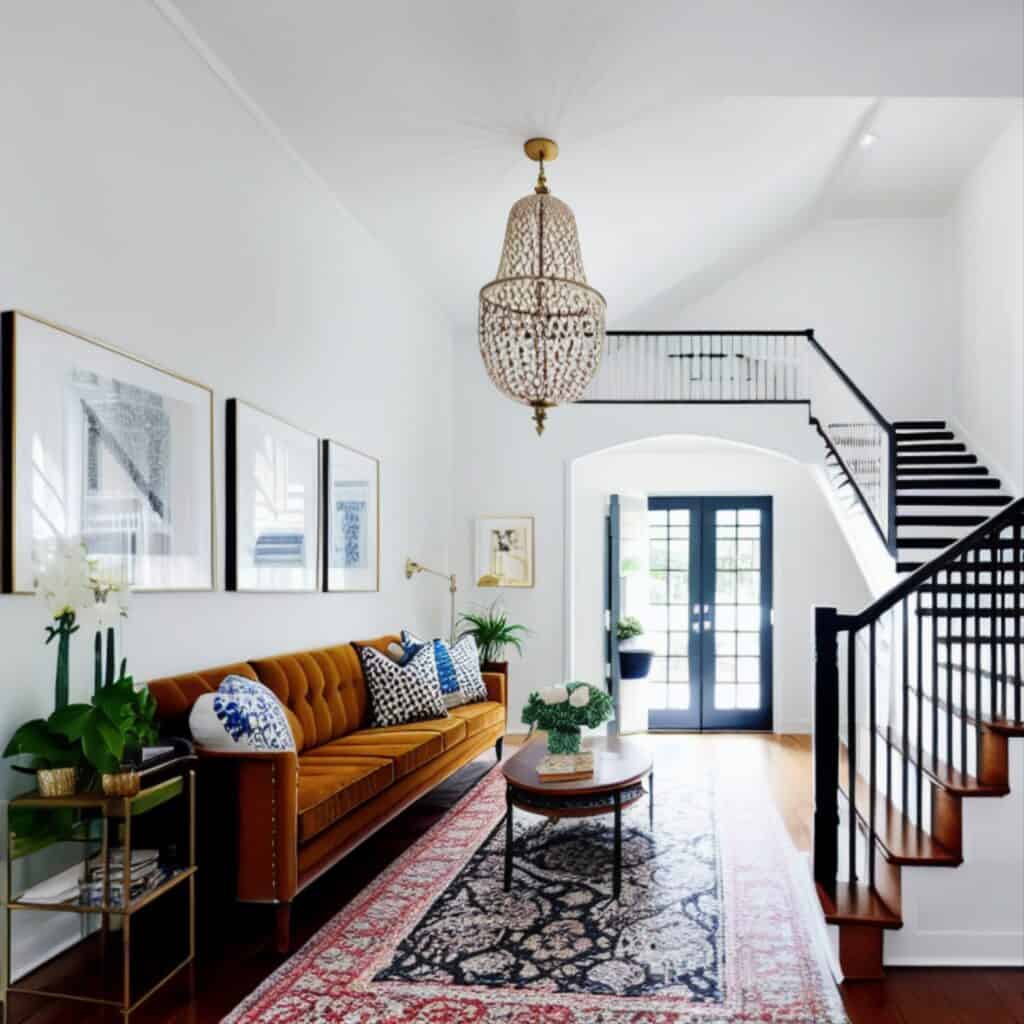 Its Not a Traditional Staircase Look
A crystal chandelier may not be high up on the list, but lighting is important because there is a big difference between mood lighting and drab. Often your entry, staircase and stairwell could do with a fresh coat of paint. When your colors go muddy, you can see fingermarks and it feels stale, its time for an upgrade. Go bold, luxe and playful; yes with paint.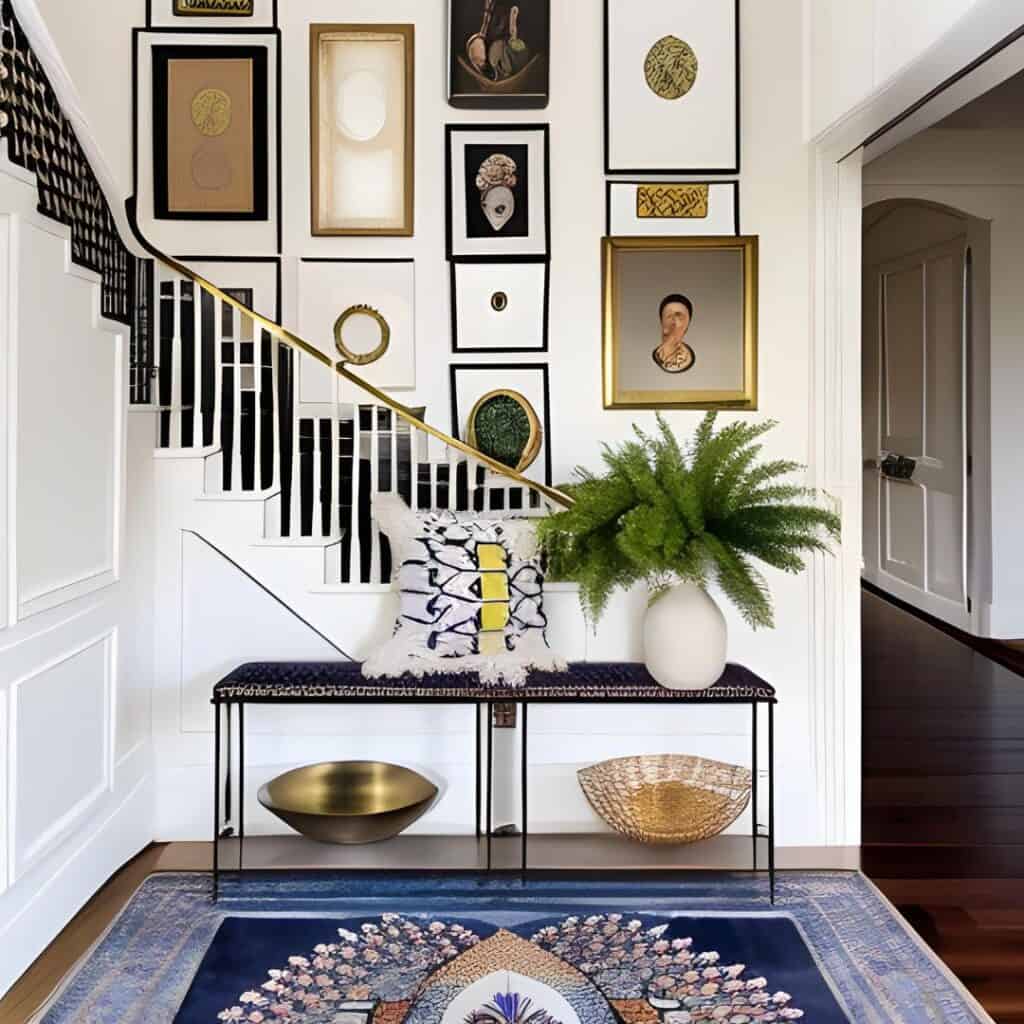 It sets the tone for the rest of the interior design in the space. Your color palette choices can make your stairs look big or small, modern or dramatic. When it comes to decorating, your entry is the perfect place to create a sense of statement chic so think wallpaper, reading nook around the staircase area, add extra storage, a built-in bench, window seat, accent chair, throw pillows, cupboard and entry table until you get a cohesive look that suits the rest of the home.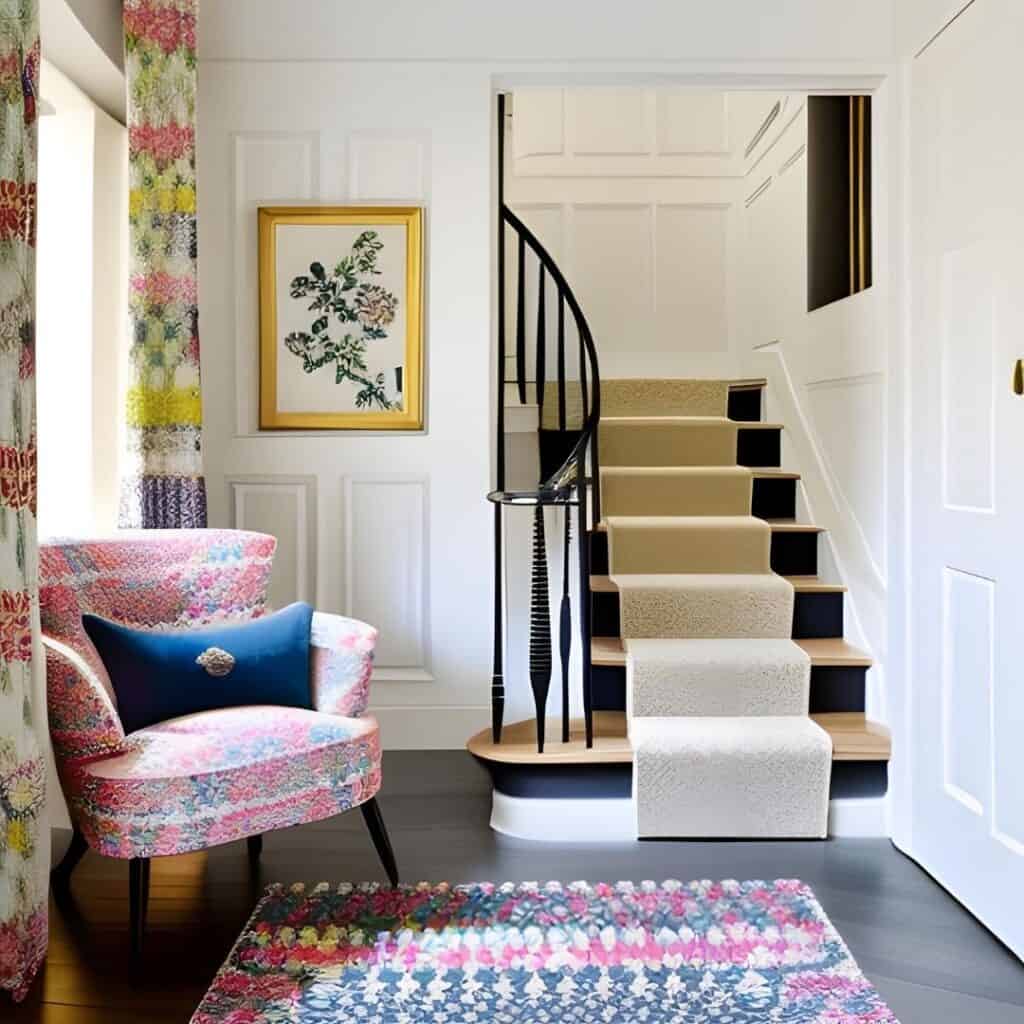 Then go beyond that and think striped, stencils, tile stair risers, using paint, darker shades, or lighter shades, olive green paint or pastel pink accent chairs; you want high-level visual interest until you reach the top. Even a small space can use design ideas in brilliant ways to elevate your entry.
Entryway with Staircase – Can I Have a Built-in Bench, Antique Details and a Reading Nook with That?
Here are some tips to help you make the most of your entry with a staircase:
Create Two Focal Points: Make the staircase a focal point of your entryway by styling it with interesting artwork, plants or lighting and make the entry a focal point with rugs, seating, table, baskets and more. Depending on the size and shape of your entry with staircase, you want the eye to move from the entry level and then around and up the stairs. Its a visual trick and mirrors, wallpaper, seating, bannisters are all visual tools to make it a visual marvel.
Use Mirrors: Use a large mirror or a group of smaller mirrors to reflect light and create the illusion of more space.
Add Storage: Use the space under your stairs for storage or display by adding built-in shelves or cabinets. This is wonderful for books, plates and more.
Choose the Right Lighting: Use warm and inviting lighting fixtures that complement the style of your home and illuminate the staircase and entryway. Layered lighting always works well, with dimmers, so you can change lighting for the mood or the task.
Use Color: Add color and texture to the staircase by painting the risers or handrails in a contrasting color or pattern.
Keep it Clean and Tidy: Keeping the staircase and entryway clean and tidy will make a great first impression on guests.
Make it Safe: The staircase should be well-lit and have sturdy handrails to prevent accidents and ensure safety.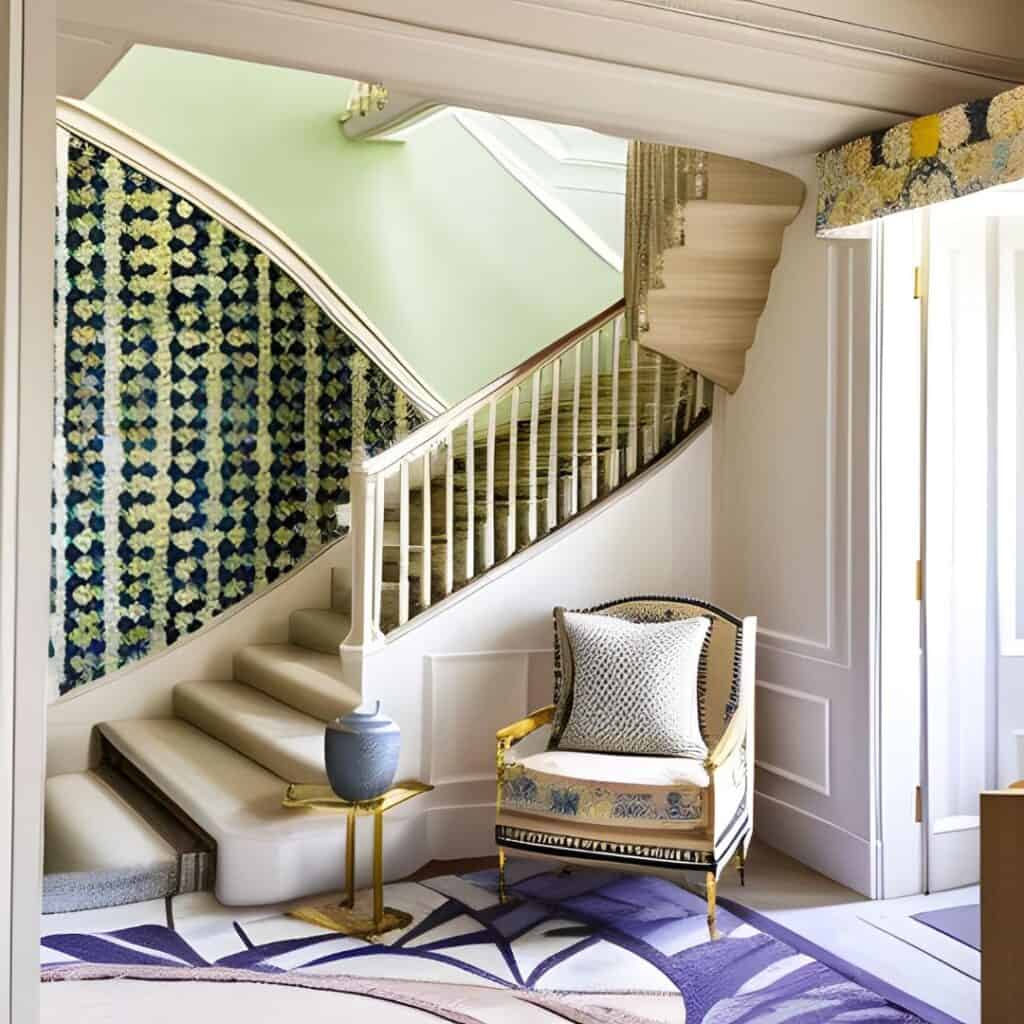 Staircase – Storage, Railing, Tile, Wallpaper, Wrought Iron Spindles
Your staircase is a tool to display bold colors, carpet runners, wall art, antique details or modern textures. It deserves just as much attention as other parts of the house; don't leave it as an empty space that looks like it leads to nowwhere.
If parts of your staircase such as spindles, banisters, posts or other element need updating or replaced, then its a design opportunity to make it a decorative element all of its own. From wood stairs, wrought iron spindles, modern bannister and spindles, there are different materials, tiles and risers in budget-friendly to make your staircase feel like a luxe indulgence.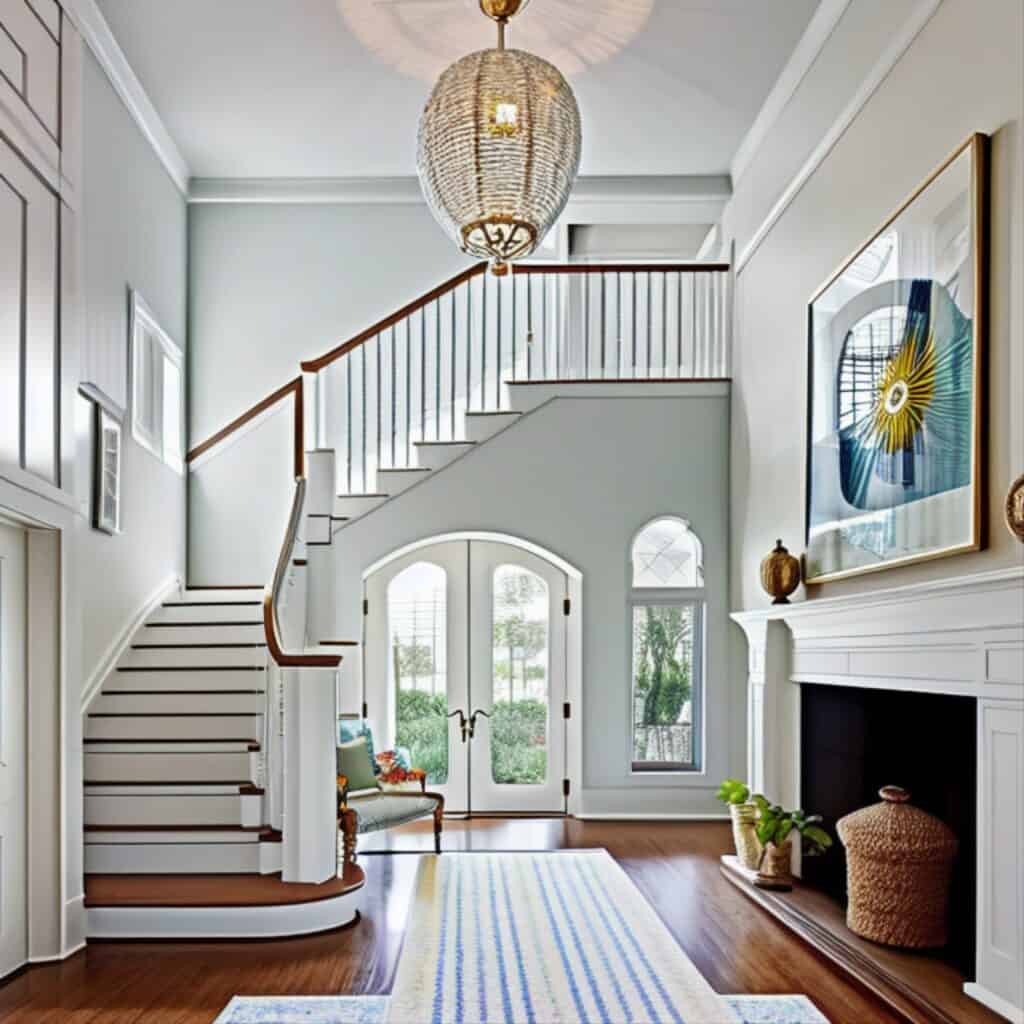 If you don't need to replace them, then put together a color palette you love, and work on each surface independently but also togther so it looks cohesive and seamless. Every surface is an opportunity to add color, texture and life to the space. Striped walls, stair runners, wall art, accent chairs, rugs, are ways to use the staircase as an invitation to come in and enjoy your home.
Whimsical Stair Tread Decorating Ideas – Walls, Runners, Patterns, Color Ideas
Imagine an entry staircase where each step tells a mythical, magical story. Modern but electic and with a twist. Its so playful you could use decals, DIY them, paint them, fairy tales or mythical creates to create your unique staircase. You can protect them with varnish or add a carpet runner for additional treads and risers protection and cushioning underfoot.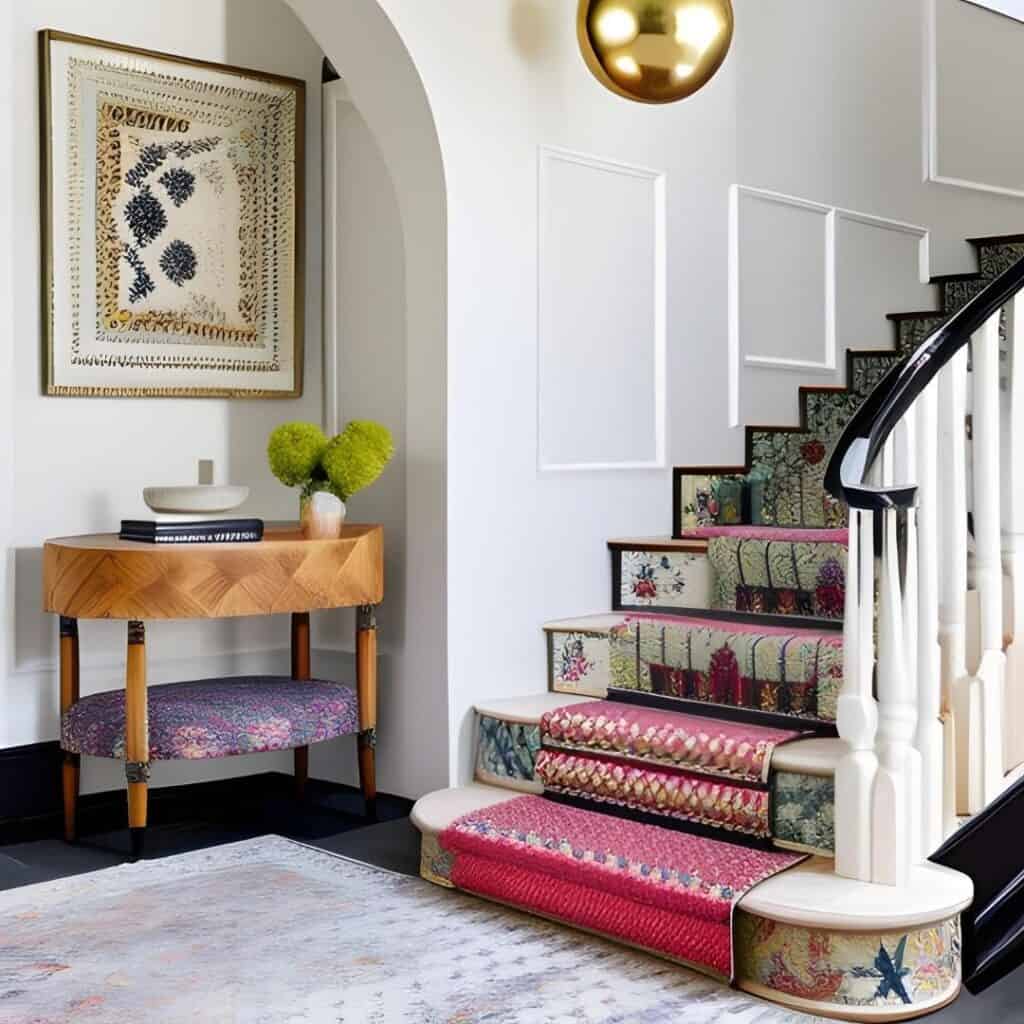 Ideas and inspiration for your entry staircase using exotic, mythical characters and stories. First, pick a theme such as –
retro revival
bird themes
geometric
musical
modern coastal theme
underwater related mythical tales
nature inspired accents
farmhouse with animals, pitchforks or barns
Scandi theme
French theme
Floral themes
Stars, planets and the sun
Black and white
Step 2
select stencils
wallpaper or
decals to map out your pattern for each step.
Step 3
Select your color palette.
Depending on the condition of your stair treads you may need to paint, sand or chalk paint them. Paint is a great way to make the space feel new again if you decide not to replace any parts of your stairs.
Take your patterns of choice and decal, paint or stencil and add them to each step.
Add a runner. The best runners are faded vintage, boho styled with lots of color, themes and fun. They look like inherited heirlooms and layer in more color, even more stories and texture.
Entry Console Table
An entry console table is a great addition providing decorative alchemy and practical opportunities. Its a vignette of style and an opportunity for playful accents. There are many styles, materials, heights, sizes and price points to choose. Selecting the right one for you will depend the space available, your decor and budget.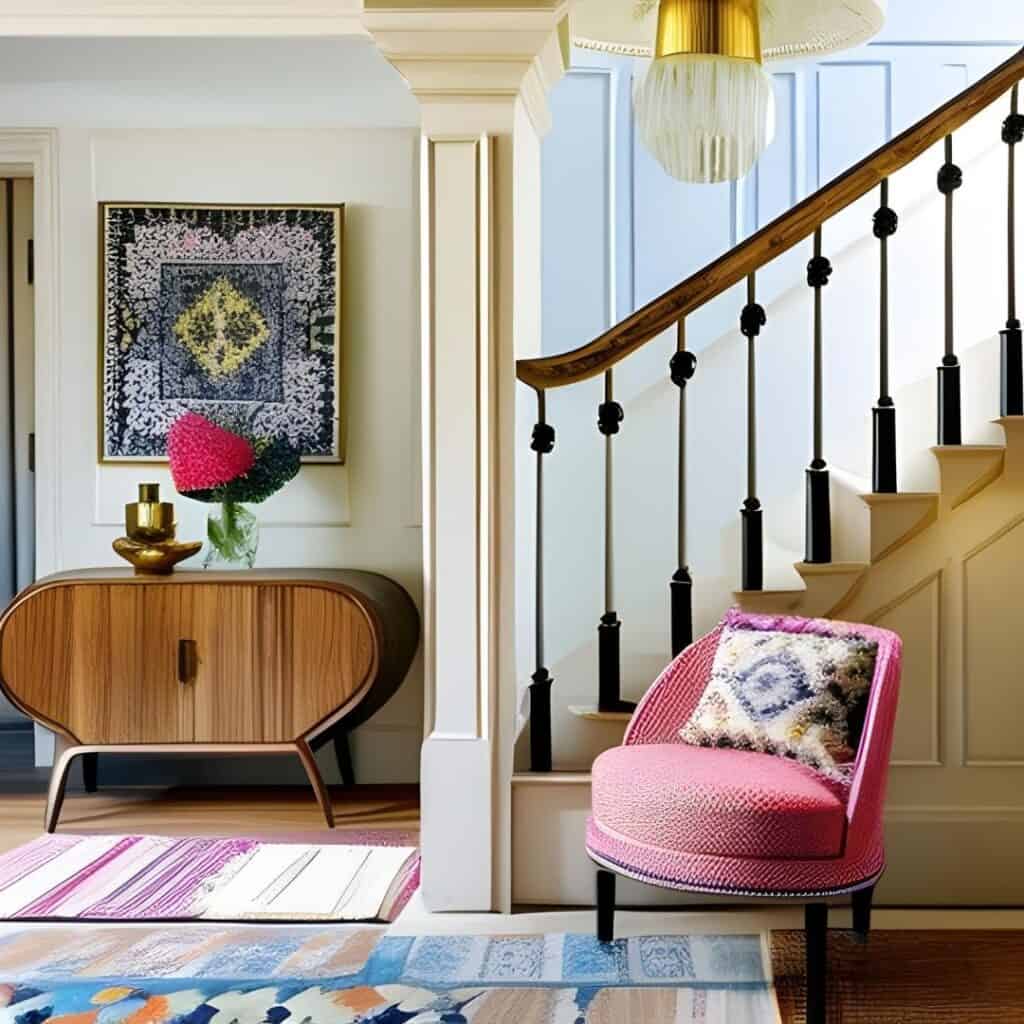 Here are some styling ideas to make the most of your table:
Storage: It provides additional storage space for small items like keys, wallets, and phones. Look for a table that has drawers or shelves to maximize storage potential.
Decor: Its a great opportunity to add decorative touches. Try styling it using a vase of fresh flowers, a decorative bowl, or a stack of books to create a welcoming atmosphere.
Lighting: Consider adding a table lamp or a pair of sconces above the table. This sets a warm tone and inviting ambiance.
Mirror: A mirror over the table or bench can visually expand the space and give you a must-have check on your appearance before heading out the door.
Art: Art or a framed photograph add interest, color and personality and should complement the overall decor of your home.
There are many videos and pins about styling table styling.
Benches and Accent Chairs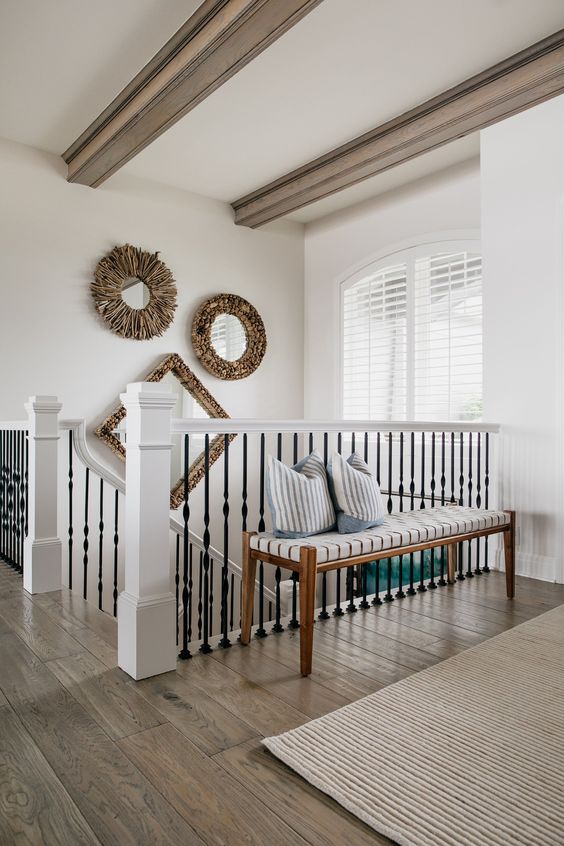 Sink sweetly into divine visual treats with Rich Royal fabrics, hues and textures. Gracious chairs with strong back support and arms that hug you lovingly. Whether it retro chic DIY chair classics, upcylced or chic bohemian chairs for the jet-set, go decadent with color, and whimiscal style.
If you have space for an accent chair, use it for the luxe feeling it creates, additional seating and the cozy nook it adds. This is where you should go bold with color and texture.
Sweet white walls never looked so good! Iconic gold wood tones and gold mirror trim for an opulent classic feel. Is it just us, or do these sweet timeless white walls look soothingly lavish with the right dose of gold, mirrors and light golden honey wood tones – and a hint of black to ground you? Imagine – Boundless streams of natural light flood this landing, gliding you as you float down the stairs from sleepy night to let's-take-over-the world day! Calming modern minimalism never looked so good.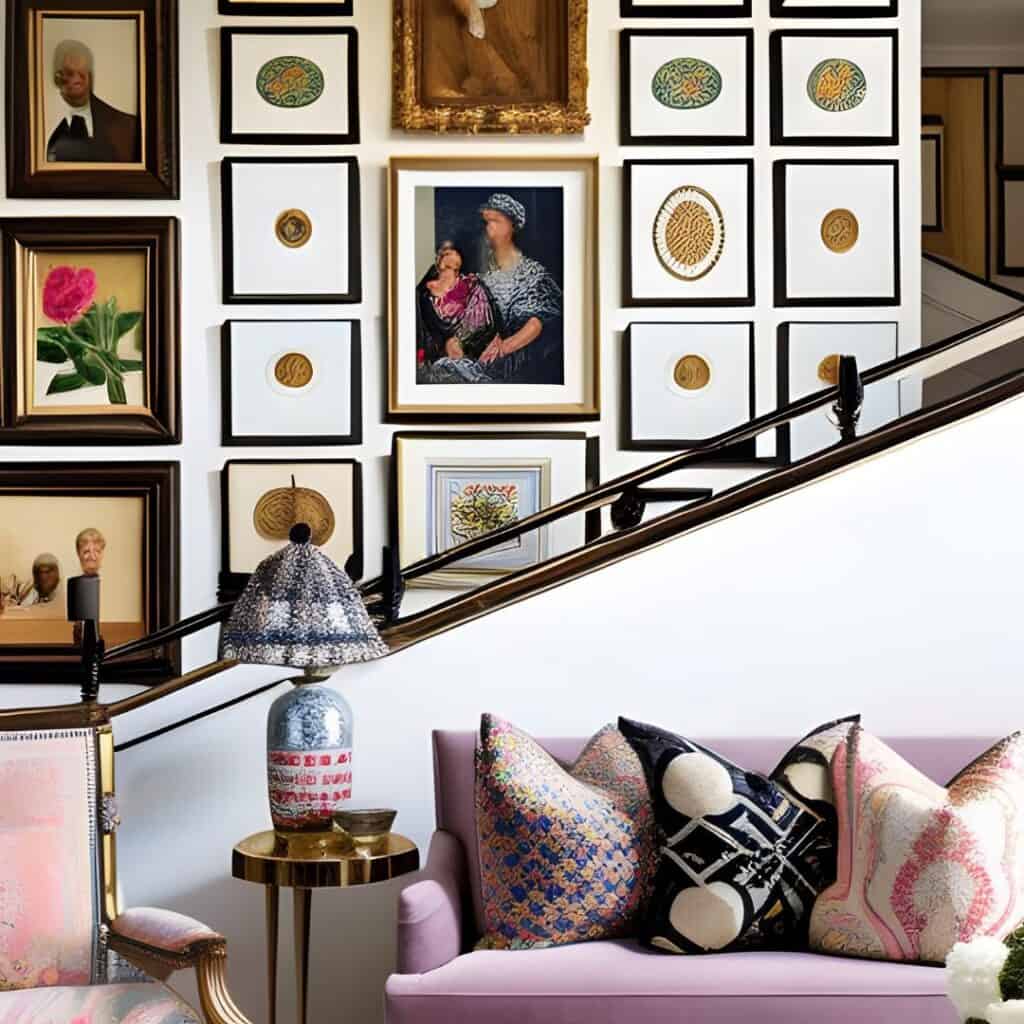 Benches in wood or upholstered are also trending high because they are practical, especially if they have additional storage, and like accent chairs add warmth and texture.
Sizing and style will depend on your space and decor. If you are strictly minimalist and embrace space, you may decide you don't want or need either. If you have very limited space, a bench with storage could act as your mudroom for shoes, boots etc.
Entry Rug – Bold and Beautiul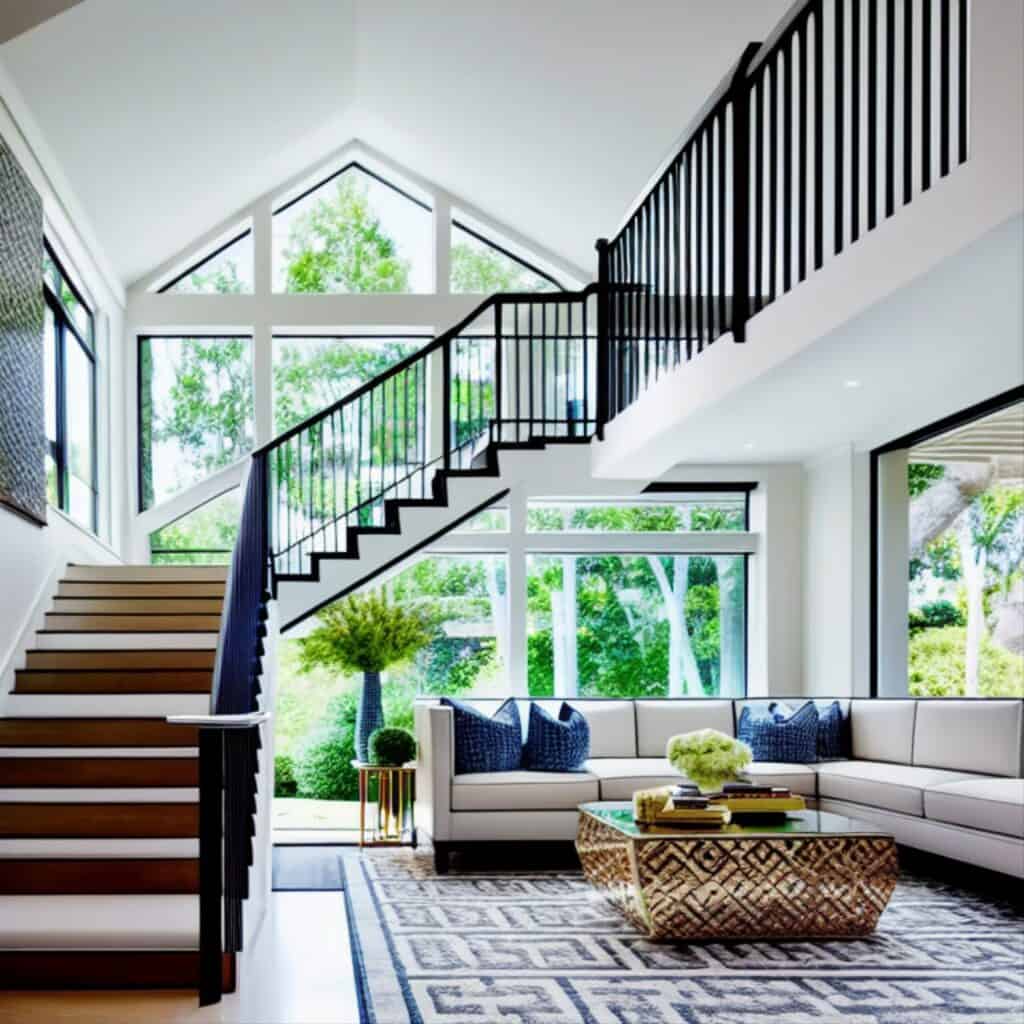 Your entry area rug defines the entry so selecting one that is the right shape, size and color is important to carry your style throughout the area. You may not need an area rug if your flooring is in good shape but a rug can ground and define a space as is always an elevated detail.
Gallery Wall for Entryway Staircase
Honestly, is there a better place to hang a gallery wall than alongside an entryway staircase? Probably not. You can use family photos, grand gold frames with aristocratic family members, (not necessarily your family!), or art.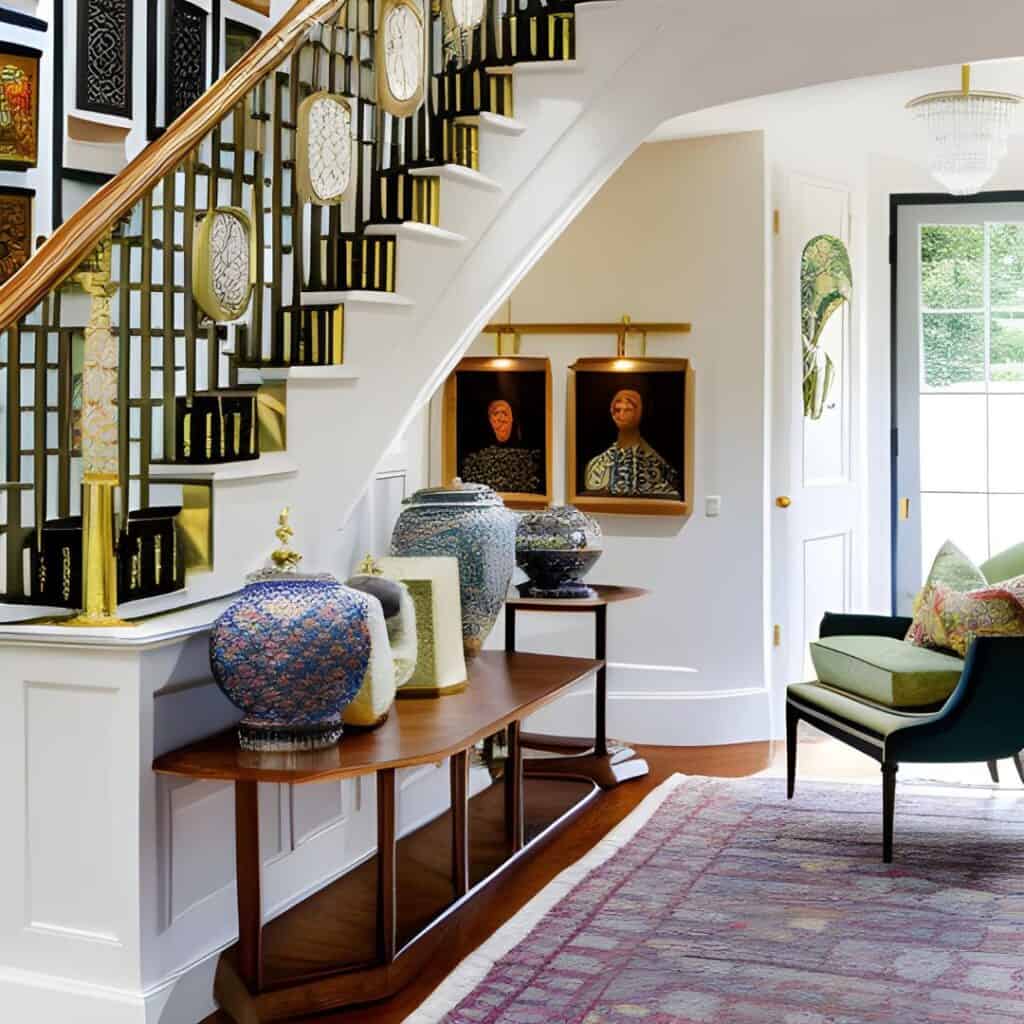 Use the entire length and height of the stair case wall if you want to create a statement feature. Its makes a statement whether you have a curved staircase or plain stairway and is a whimiscal yet elegant way to use your staircase wall.
You can create a feature using bold pops of color, wallpaper or mirrors. The style choice is yours.
There will be times when you can sink into your accent chair and simply enjoy the divine visual treat you have created. That's the best time to pause, and be gracious. You created a chic oasis that hugs you lovingly everytime you leave or arrive. Whether you decided on a retro chic DIY look, opulent and tailored or simply jet-set, go decadent with color, and whimiscal style.
We are creating our own products, so join our newsletter, follow us on Facebook or Pinterest to come along for the journey.