Whether you are an entrepreneur, a woman on the corporate ladder or a home maker, dressing powerfully is not about impressing others and changing how they think of you, but a tool to set yourself up to be a brilliant woman on the outside as well as the inside.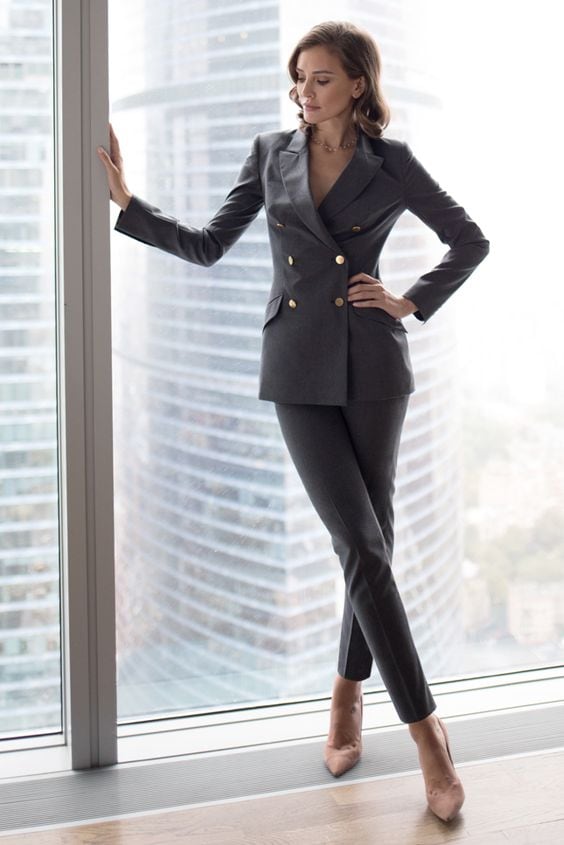 Source – Vogue Russia
Looking past the heavy padded shoulder pads many high profile women describe clothing and accessories as a confidence-provider. As one women said, 'I can act like a swan on the surface and no-one needs to know I'm paddling furiously below'.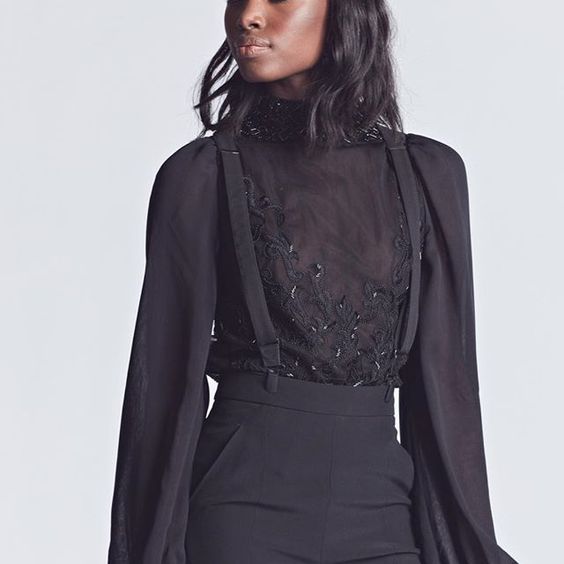 Source: Instagram
While you are growing into the best version of yourself, your wardrobe should change with you, always one step ahead of where you are right now. Look at the clothes you spend 70% of your time in, what are they saying about you? 
If you want success in any area of your life you have to be it, feel it, and act it until you get there. 
Power dressing is all about evolving, becoming and growing into the new vision of you, inside and out. Successful women like Amal Clooney effortlessly dress in a way that is feminine, personal and professional. You might not have on-tap styling advice and an endless budget but here are few power dressing lessons.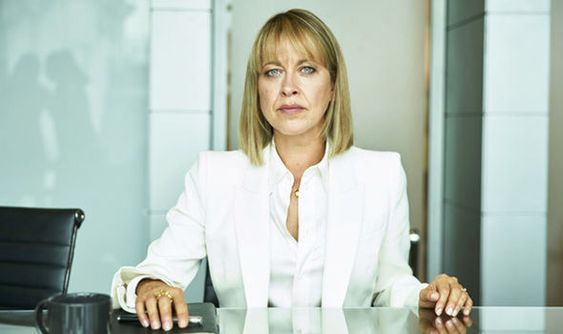 Nicola Walker in The Split :  Pinterest
1.     Heels – In or Out?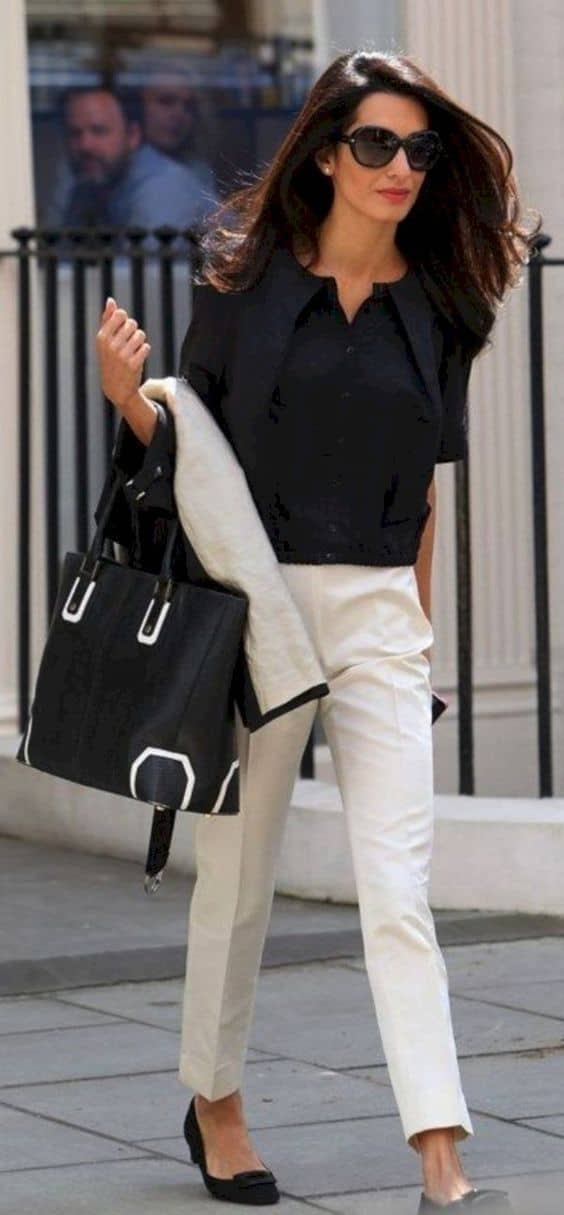 There is always talk that heels are out. For those in male dominated industries like banking or corporate, heels are always in. While others live and die by the smart trainer, there are times like smart parties, dinners or birthdays where ballet slippers or the trainer or simply won't do.
 "A lot of power comes from feeling smart, and for that I think you've got to have heels. Even if they're not very high, they give you a sense of gravitas," says Anna Berkeley, a London stylist who works with women at the top. If you are tough on your heels as you go from meeting to meeting, include some more affordable options in your wardrobe that you can toss without too much guilt when they are ready to go to heel heaven.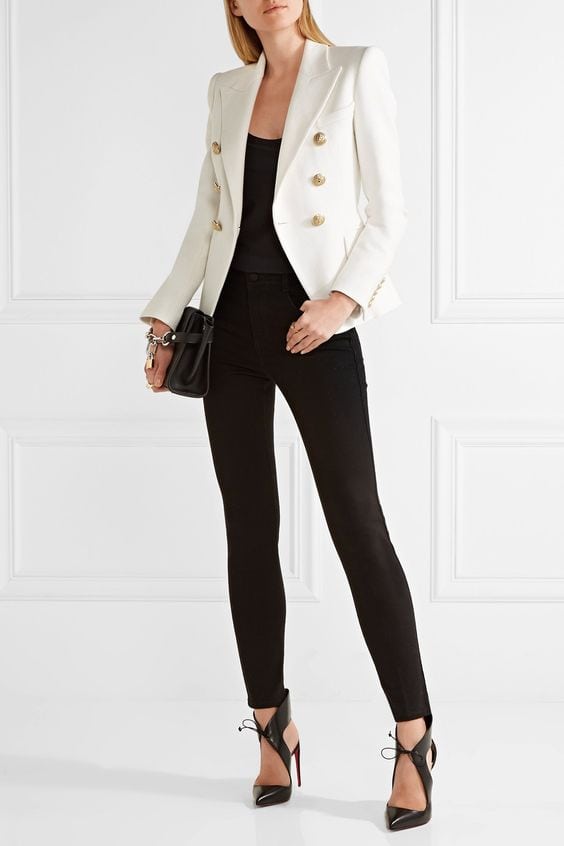 Power heels – Pinterest
2.     Tailored for You
A finely cut suit feels empowering. It is cut to enhance your shape; you look elegant and together, even on days when you don't quite feel that way. A good suit moves where it needs to. Whether you like monochrome, floral, bright or patterned fabrics, when you add simple and sleek accessories you always look the business. Cate Blanchett, Amal Clooney, Stella McCartney and Victoria Beckham look relaxed and sophisticated in well tailored suits. Paired with a great shirt, or a fitted t-shirt for a more informal look, it's the small styling shifts that make your suit look modern and on-trend.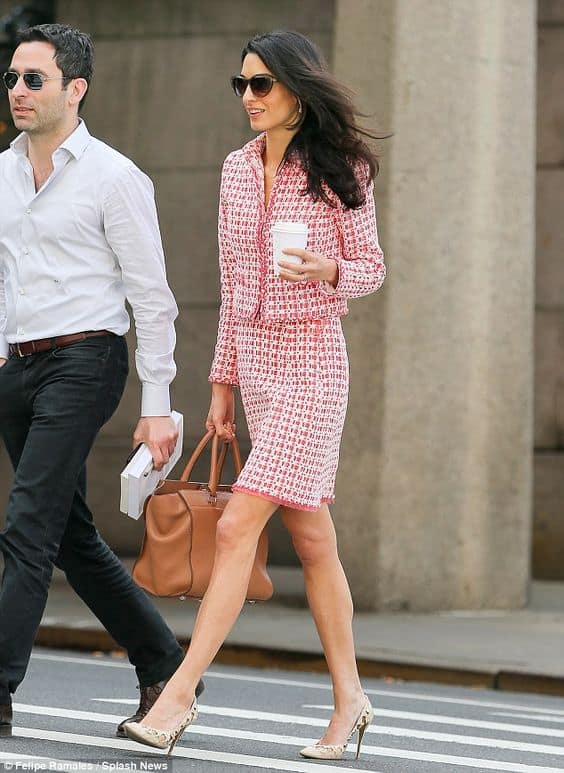 Amal Clooney Suited and Heeled – DailyMail 
3. Build an Army of Separates
A traditional suit with matching jacket, trouser and skirt can be the foundation of different looks. You can switch out each one replacing with another great jacket, different trousers, shirts or skirts for a modern and more versatile look and with different price points from other companies.   
4. The Power Dress
The dress can be the strongest power play of all. It's easy to take out of the wardrobe, easy to put on and even accessorize but the right dress speaks volumes when it's on.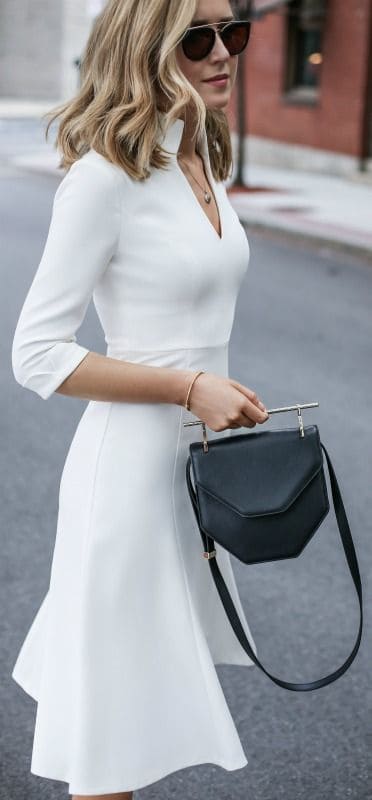 Women like Dame Helena Morrissey, founder of the 30% Club (which campaigns for more women on boards) and mother of nine, wears shifts by Chanel, Roksanda and Beckham. Style Queen Anna Wintour loves pops of color and prints. Right now, its more about interesting cuts, fabrics and prints.
Find the right shape for you and always have a little black dress on standby.

Victoria Beckham Black Dress – Harpers Bazaar
5. Luxe Sporty Can Work 
It might be an expensive tracksuit bottom, but paired with a neat blazer, blouse and great earrings, a great look can be pulled-together. Done well, this look is a trail blazer, done badly and you could look like you are not taking things seriously and you should at the gym, not at work.  
6. Print Power
Whether you love ostentatious prints or you are a minimalist at heart, both have a role to play in power dressing. This season florals, gingham and stripes are strong, even dominating. Old style florals may not have exuded assertiveness and authority but today's florals are rich hues and moody. Strong colours always have a place on powerful women.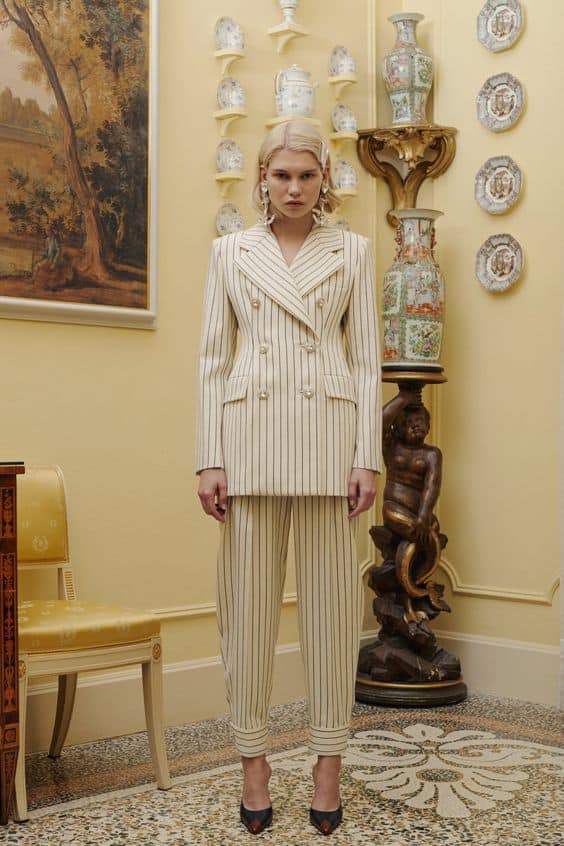 Florals, Prints and Stripes – Vogue Russia
7. Every Closet Needs a Quality Blazer
Just like a suit, a quality blazer finishes an outfit with its line and fabric. It transforms a simple dress, pants or skirt and even jeans into a boardroom powerhouse.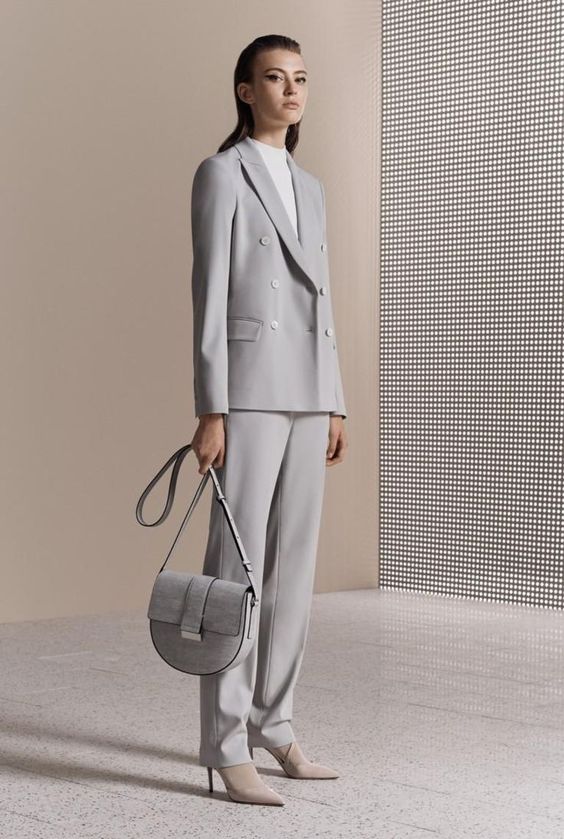 Jackets can be mixed and matched with other pieces – Hugo Boss
8. Create your Own Signature Look
Your own personal signature should be as unique as you. It can be a colour, an accessory or your haircut. You want to stand out. Anna Wintour loves colour, her bobbed hair and dark glasses, Yasmin Sewell is known for her blazers and exaggerated shapes.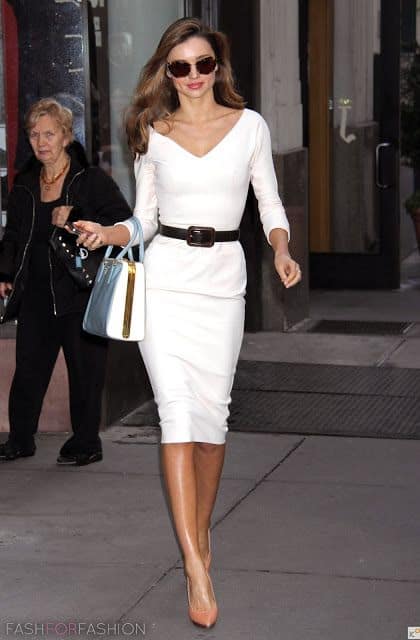 Miranda Kerr Power Dresser – Instragram
Put your wardrobe and accessories to work for you. Learn what works for you, what makes you comfortable, feel empowered and remember, that true power comes from within and never forget your accessories.