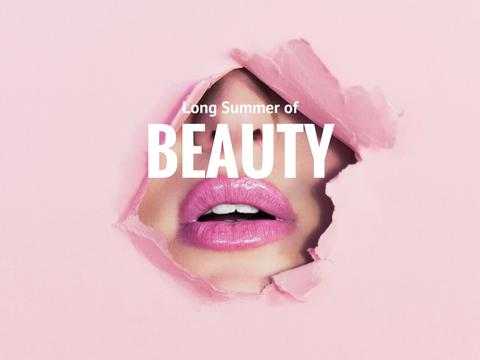 Photo by ian dooley on Unsplash
Seasons change faster than we think it's possible, and today we all fret about what's trending this summer. It takes a lot of time and effort to follow all trends and influencers, and it can be exhausting trying to keep up with all that fuss on social media. If you feel like you're missing out on something, fear not. We give you a list of things that beauty and fashion influencers pointed out as must-haves this summer.
Oh, the shoes…


Photo by Flaunter .com on Unsplash
High-heeled mules, candy-colored sandals and fur-and-satin slippers, this is one crazy season when it comes to shoes. Footwear options are so many that even influencers can't agree on one style: colorful heeled mules, espadrilles, sandals with mini block heels, and platforms that look like they came straight from the '70s are enough to make you dizzy.
Notice my highlighter


Photo by William Randles on Unsplash
Zoe Sugg, an amazingly talented makeup artist from England that goes by the name of Zoella, shared her highlighter applying technique. We all love shimmery and sparkly things, but be careful not to apply too much highlighter to your face. You might believe it seems adorable, but it only accentuates your pores. Apply it with a gentle hand and strategically, but don't think that it's going to be the end. Zoella swears by the Smashbox Photo Finish Primer Water, which she sprays on top of her highlighter. It amplifies it and doubles as a setting spray at the same time.
Eye-catching swimsuits


Photo by Sam Burriss on Unsplash
This summer is all about sexy swimwear. Yes, bikinis are timeless, but they can also get rather boring and dull. Among a number of popular Instagram swimwear influencers, Rachel Rocky Barnes stands out and shows off her love for swimwear of peculiar designs and prints. A vintage-style high-waist bikini bottom that has sexy laces on the side pairs up perfectly with a strapless top, and an exotic floral print is just a cherry on top. This season is all about standing out from the crowd, so mash, lace, low- or deep-cut swimwear is a great choice.
Heavy glitter


Photo by Alia Wilhelm on Unsplash
A digital star and one of the most famous male makeup aficionados in the world, Manny Gutierrez, aka MannyMUA, works with Maybelline and he revealed his tricks for flawless eye makeup. Since he has hooded eyes, he usually applies eye shadow above the crease and at the outer corners of his eyes, and then he covers his lids with glittery eye shadow. Now, his absolute favorite is putting a bit of gold glitter because it opens his eyes a lot. He uses Urban Decay Heavy Metal Glitter on the inner corners of his eyes and it really makes his eyes pop!
Velvet dresses


Photo by Ayo Ogunseinde on Unsplash
Is there anything more seductive than soft velvet on your skin? Everyone, from Kendall Jenner to Rihanna, loves wearing velvet, and a sexy velvet wrap dress is just what you need to draw everyone's attention at the next party. When you have a huge party coming on, but you just can't find the time to go shopping, you can check online shops. There are many that offer next day delivery in Melbourne or Sydney, so you can get your lovely dress delivered right to your front door. This will save you a lot of time and you won't have to go through a lot of stress to get the dress you really like.
Remember, just because something is a trend and it looks good on a number of people, it doesn't mean that you have to do it, too. Keep an eye on trends, but don't follow them blindly. Instead, try to create something that's going to be a perfect reflection of who you are and what you like. Happiness and confidence will never go out of style, and if you feel good in your own skin, people will notice that.